Google 'Sukhothai' and you could be forgiven for thinking it is nothing more than "the finest Thai restaurant and takeaway in Leeds". As it turns out, there is some great food to be had, but this is a city with a lot more to offer.
We spent a few days here after Ayutthaya to continue to break up our journey from Bangkok to Chiang Mai, and were very happy that we did. The city was founded in 1238 and has a wealth of history, including the accolade of having been a former Capital of the Thai empire for ~140 years.
Getting to Sukhothai is fairly easy from many places around Thailand. We took a bus from Ayutthaya for TBH 310 per person (~£7), and there are also buses departing Bangkok regularly from the Mo Chit Nothern Bus Terminal (which is also where we took our bus to Ayutthaya).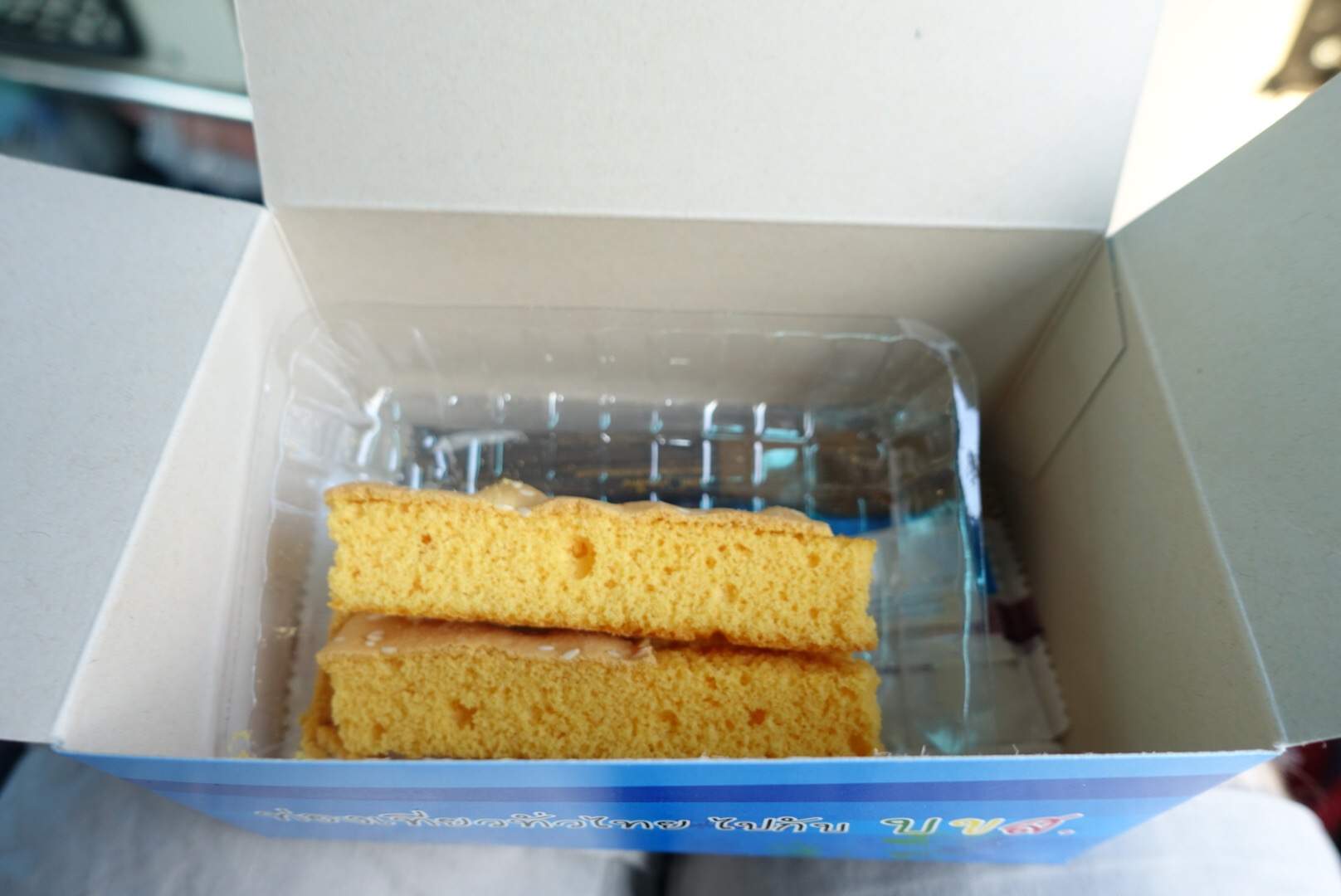 It's also possible to take the train part way to Phitsanulok and then a bus for the last hop, to break up all the hours on the road. So far though, we've found the buses in Thailand reliable, reasonably priced, and perfectly comfortable. On our 'VIP' bus, a girl even came round giving every passenger a bottle of water and a small box with a little cake inside. Pretty basic, but a nice touch!
Arriving in Sukhothai
My first impression when we arrived, truthfully, was that it was a bit pants. Our hostel was just off from the main road that runs into the centre, and in an effort to get acquainted with my new temporary dwelling, I decided to get my bearings and walk up the road with my brother Dom, who was travelling with us for a couple of weeks. After 25 minutes walking all we had seen was a busy highway and a few of those amiable 7/11's. We cut our losses, bought a bottle of Soy milk, and headed back.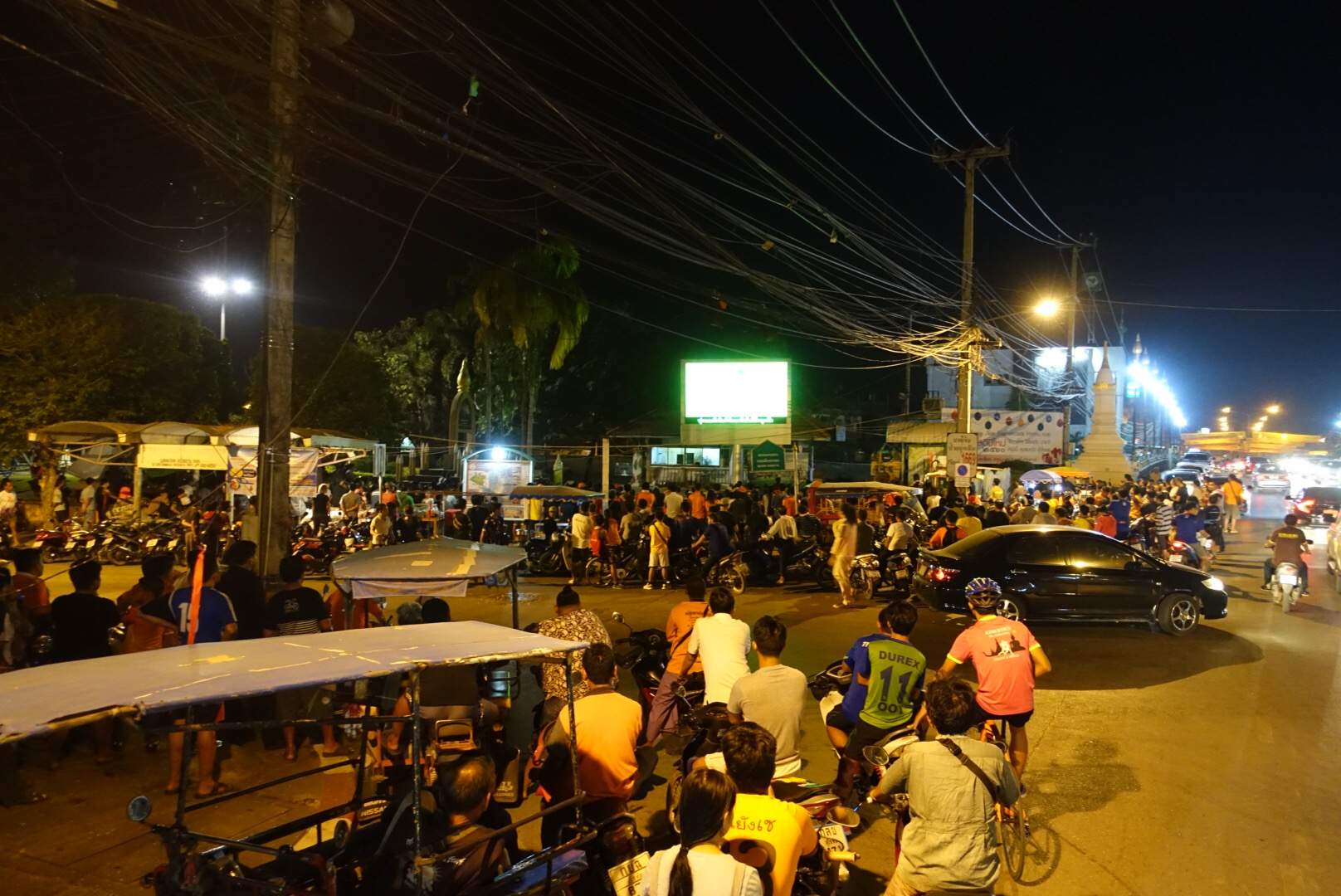 Thinking there must be more to a place that has a Sanskrit meaning of "dawn of happiness", we took to bed to wait for said dawn. After a couple of rooftop beers and meditation, anyway.
The next day we started to see what the city has to offer… or more accurately, the country. We all enjoy cycling, and I find taking a bike around a new area whether solo or with a guide a great way to quickly become acquainted. This time we spent the day cycling around with Jib, a local who grew up in the area and wanted to show us everything that was great about his home.
We met Jib a little out of town (turns out there is something down that road if you keep going!) and he provided some very well kept mountain bikes and helmets, all sized correctly from our heights.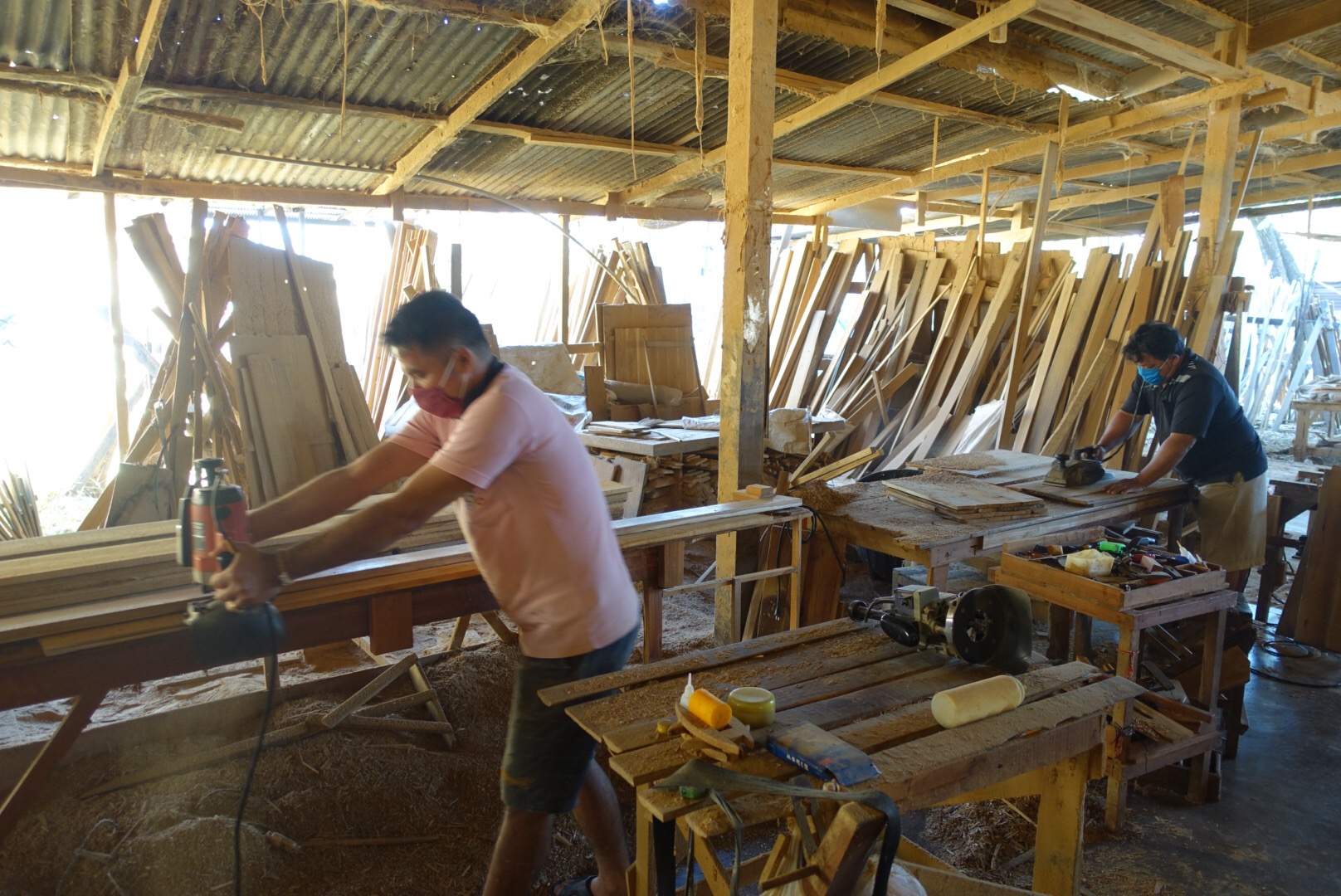 One of the first places we stopped off at was a cooperative wood workshop. Some years ago a large number of the village was without work, and with idle time on their hands. Recognising a need to create work, a couple of entrepreneurial minds had the idea (and the necessary skills) to start putting their time to crafting furniture. Over time, they trained and brought in others, expanding to form a very successful cooperative. Now today, anyone who is interested in joining is loaned the equipment and taught the craft, and is then able to work and earn a living.
The place was a hive of activity when we visited, with really intricate items in various states of completeness. Sometimes people worked, sometimes not. They all work for themselves, on their own time, on self-commissioned projects. Actually, it sounded like a pretty good deal. I asked Jib if a foreigner could do it too…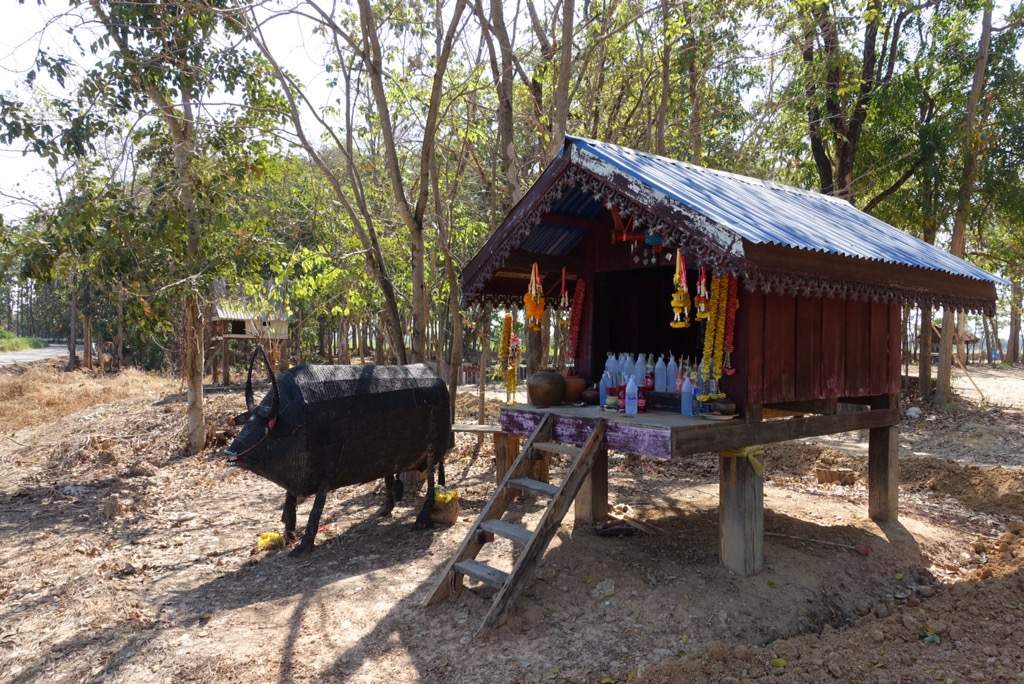 The scenery was delightfully picturesque to cycle through most of the time, and although it was hot the pace was easy with regular stops to learn a little bit about our surroundings.
One thing that you really notice when travelling through Thailand is the numerous spirit houses; almost every house has one. They house the spirit (phi) of the land, and are a place to provide daily offerings in order to keep them happy. Each morning food is placed and left for the spirit, along with drinks and other things they may like (in this one, a packet of cigarettes and a toy gun). The food is then taken away and shared with the humans after the spirit has satisfied themselves (so as not to be wasteful).
It was fascinating to learn more about these buddhist, and animist beliefs. One thing I found particularly interesting is what happens when someone moves; a new spirit house is built and the original spirit welcomed in. An old, vacant, spirit house cannot just be destroyed either. It will either remain, or be carefully moved some place else. And, after some time, a spirit house is deemed to be too old and a new one is built, followed by a ceremony to welcome the spirit into its new home. A buddha statue might be placed inside the old, to show that no spirit now remains.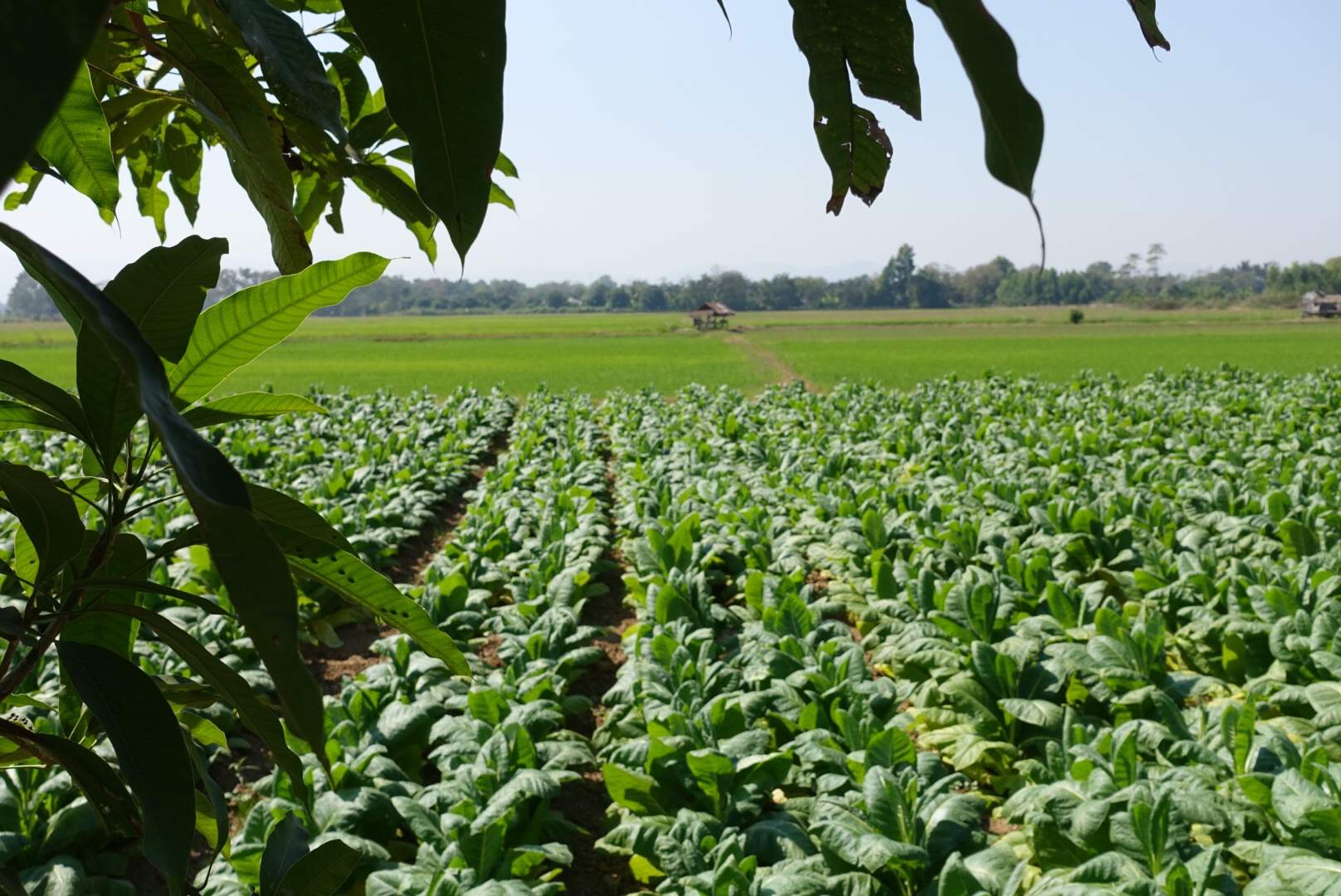 We stopped off for lunch near vast expanses of tobacco fields. Unknown to us, Jib had been carrying some drinks, fruit, and homemade treats for us to enjoy. Oh, and a face-towel each! I heartily recommend dried banana crisps, yum.
Although beautiful to look at, a lot of the fields around are housing snakes in their depths. With only an hour or so to get the anti-venom for a King Cobra bite, you probably don't want to be roaming through without good reason…
Our afternoon took us through more colourful landscapes and culture. We stopped to try some rice wine in a local distillery, and liked it so much we took a bottle back with us. Only, the purity of it meant we had to remember to pop the lid every 20 mins to let out the gas… or it would do it for us itself.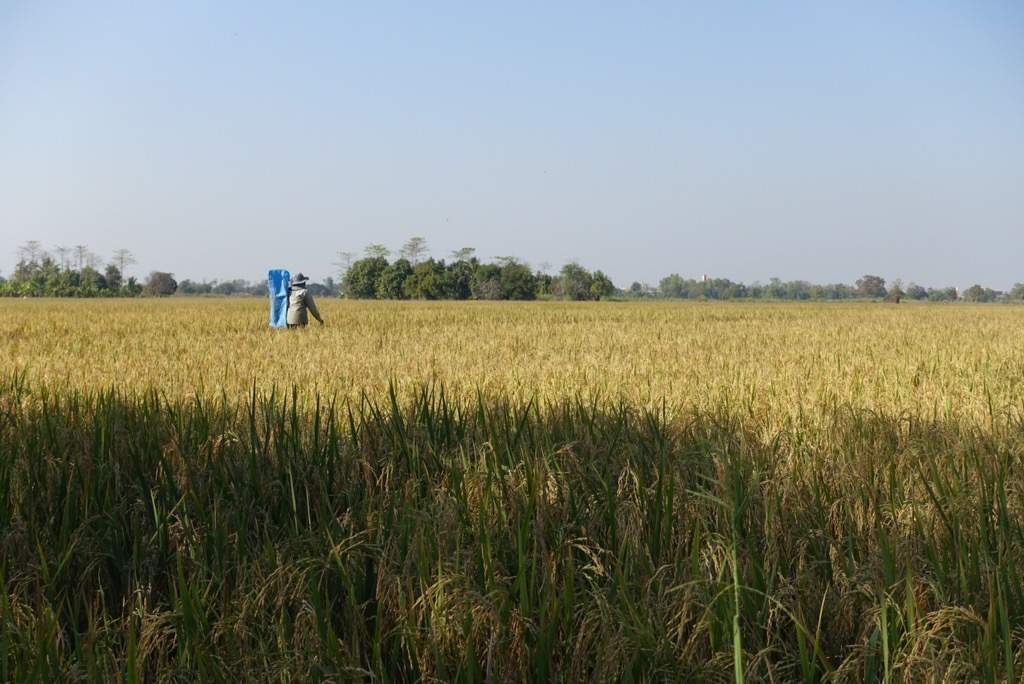 Finally, at the end of the day we stopped off at a Monastery and saw the body of a 12-year passed-away monk, who's remains have not decomposed, despite no preservatives of any kind. Originally on display for a year, he is now a permanent fixture for people to travel from afar to pay their respects. And outside, a large gong that we learnt to play a loud and delicate note, just with gentle motions from the hands.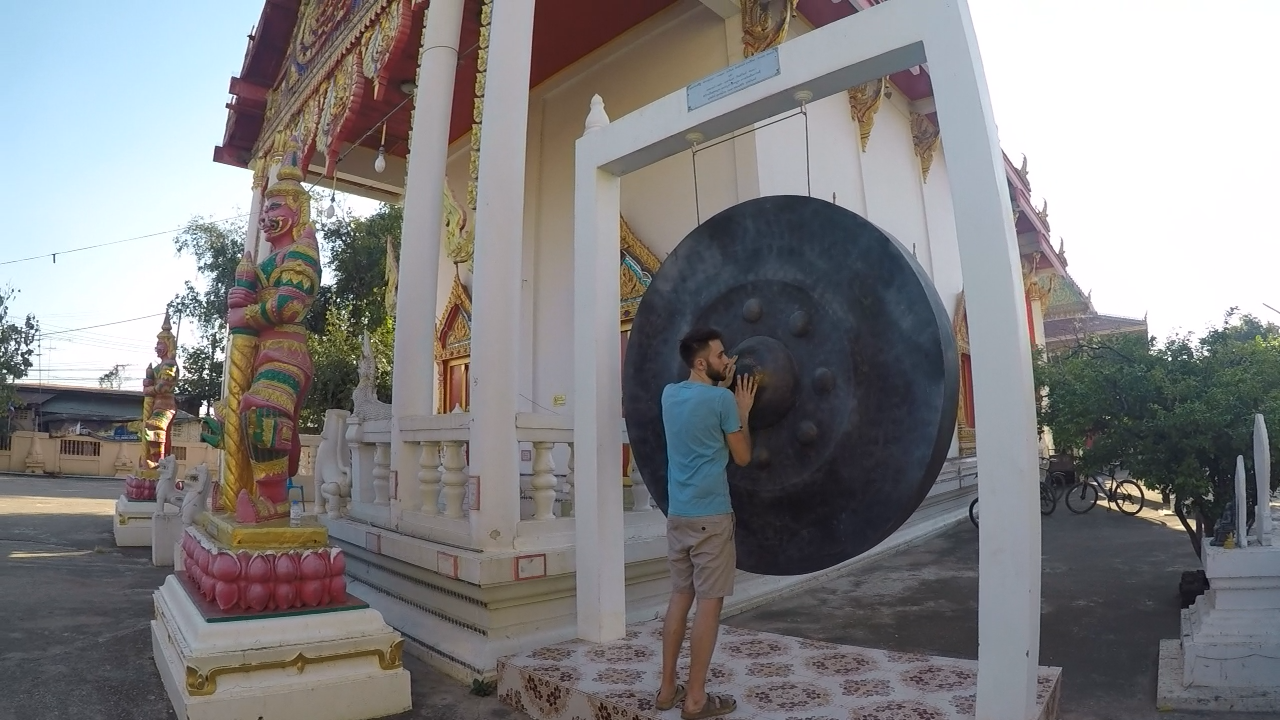 If you ever find yourself around Sukhothai and fancy a really enjoyably exploration of the countryside, get in touch with Jib at www.sukhothaibicycletour.com and tell him Tim, Abi and Dom say hi!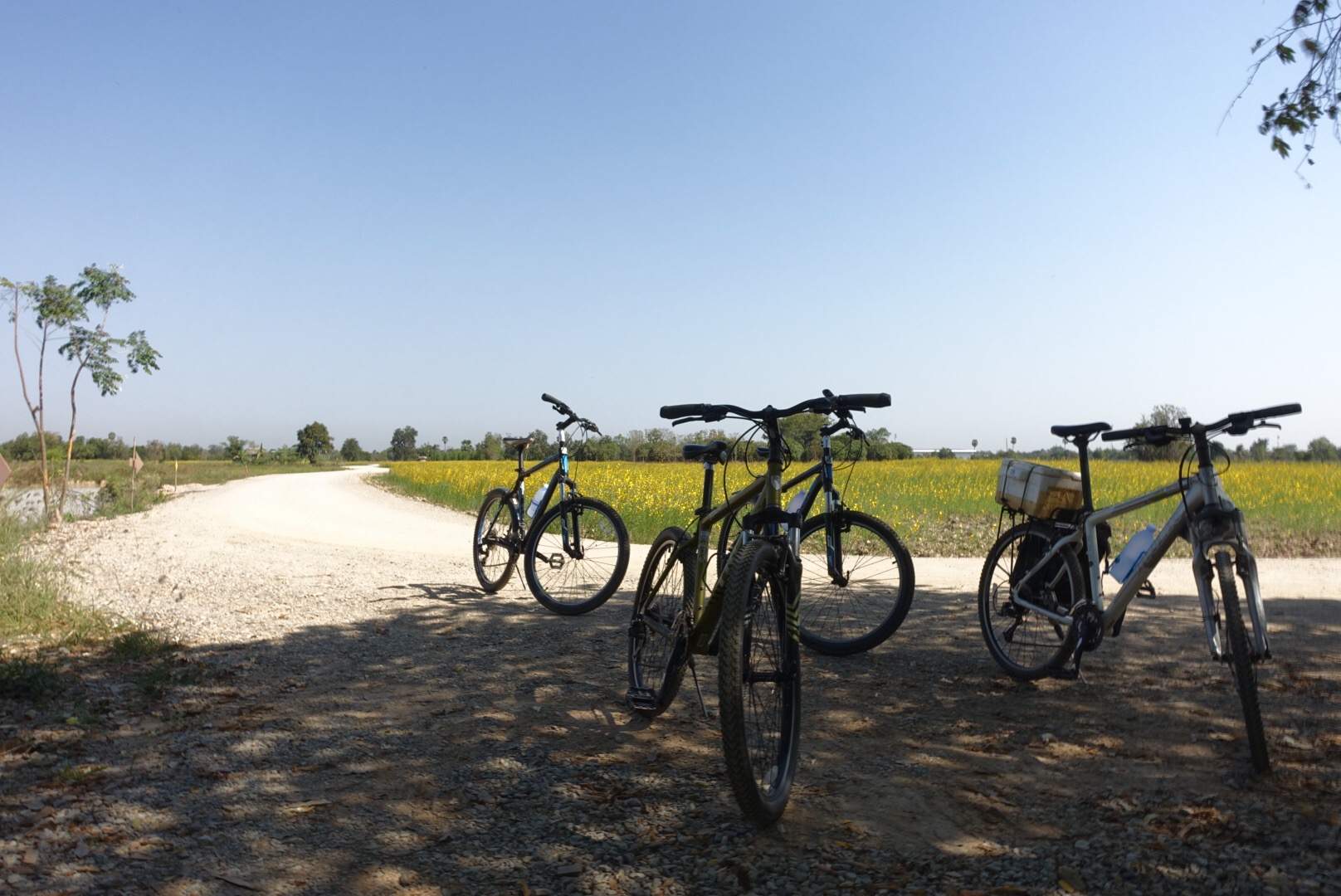 Another day, another bike
The historic town of Sukhothai is a UNESCO world heritage site, with 193 ruins on 70km square of land. We hired mopeds and drove to the old town, then hired a bicycle from the entrance for THB30 to tour around.
There are a number of different zones, and each is fairly spread out, so a bicycle is definitely something you want.
We spent the day cycling around and visiting numerous temples and buddhas, even bumping into Jib on one of his other tours! The central zone has a lot of water around as well, making the whole area a peaceful place to spend some time. The feature photo of this post is also from the park.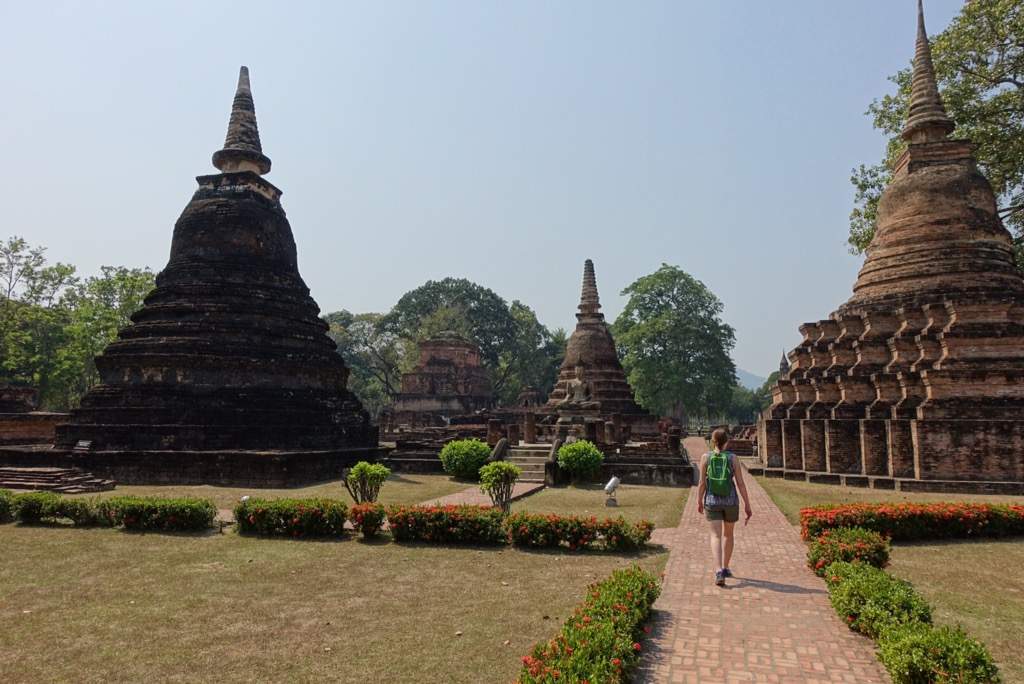 Ramkhamhaeng National Park
If you have a moped or other means to travel a bit further, then the National Park is also well worth a visit. There's a little shop at the entrance to buy some useful water supplies, and then a fairly easy hike up to some fantastic views. We only met a few other people here, and by the time we left were the only people around.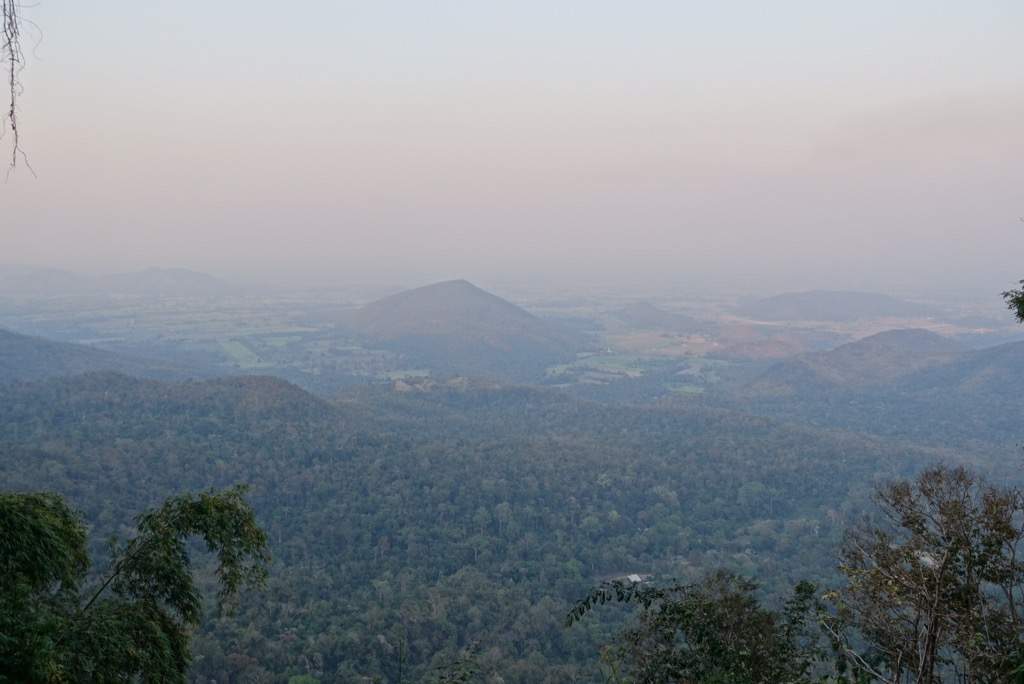 After Sukhothai we continued our journey on to Chiang Mai, right up in the North of the country. Many people arrive here by sleeper train from Bangkok (which I had originally wanted to do, but it turns out it is booked up days or more in advance). But no problem, this allowed us the opportunity to visit some places that are a little less on the tourist trail. You will find less backpackers here, but a lot of charm.