One thing we've discovered on our trip so far is that what the majority seems to enjoy does not necessarily correlate with what we will enjoy; Afterall, surely only one place can really be the "best thing I've ever eyeballed! You have to visit!" Or that little nook which is "Out of this world!" And "Unbelievable, is it really on Planet Earth…who knew!?".
If you read enough TripAdvisor reviews, you could be forgiven for thinking you've committed some unforgivable sin for passing by a visit to another waterfall.
So, with some curiosity we ventured up to Pai with open-minds. Many people had sung it's praises, but we were not really sure what was there. We were off to a good start as the drive there was so much fun, it was already worth it even if it proved to be mediocre.
And it wasn't. Pai was the first place we were genuinely sorry to leave.
First impressions
Pai is small, just a cluster of roads sprawling off route 1095 that makes its way up from Chiang Mai in the South. The heart of the town beats around the predominantly pedestrianised Rungsiyanon Road, "Walking Street", and the few other roads that split off from it.
The small area means that from most of the accommodation around it is only a short and pleasant walk into the centre. But despite being small, it is still well equipped; those Thai staples of 7-11s, gas station, and ATMs can all be found.
We really enjoy smaller places. Not only can you relax without the 'stress' of having to do anything in particular, everything is also close by so what you do end up doing is easily accessible. Everything just feels easier.
There are a number of hostels in Pai, and we chose to stay at Happy House. A chilled out vibe greets you when you walk in to the open-air entrance with a small bar, friendly owners, comfy sofas and the cool evening breeze. We ended up extending our stay here twice. Other people did the same in similar places nearby, too.
Why? Because Pai was a treasure trove of discovery; no one stand-out place, but instead a myriad of small, unassuming delights.
Pai Canyon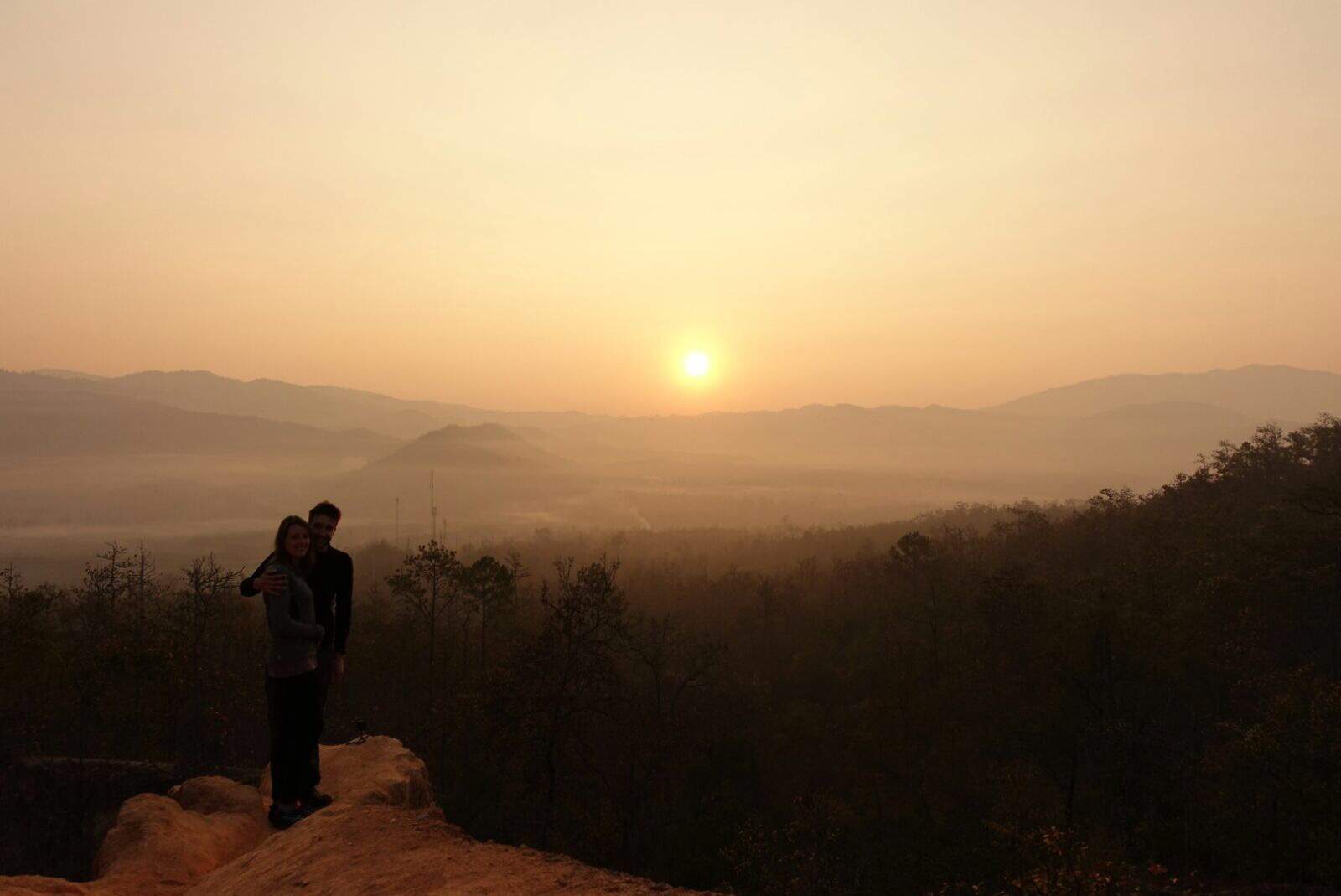 On our second morning we woke up an hour before sunrise and drove briskly South out of the town. The air is cooler in Pai due to the altitude, and at this time in the morning moving at speed it was particularly chilly.
At the canyon was no entrance, no tickets, no people. Just some space off the road to park up and climb the few stairs to the plateau at the top. Up there were two benches, one occupied with the sole other couple who had set their alarms, the other empty.
Most people have seen their fare share of sunrises, we have too. But there's still always something magical about watching the first rays of sun mop up the night shadows. Layers of mist gradually gave way to reveal the hidden contours of the landscape, with increasing heat and the sounds of the surroundings waking up beneath us. Enjoyable.
I tell a small lie, we had a little more company. A lone stray dog appeared from the ridges of the canyon and bounded straight towards the outcrop of land where I had positioned a camera to time-lapse the sunrise. I can now tick running head-to-head with a canine towards the edge of a cliff off of my bucket list. Fortunately, I won!
As we were leaving the canyon sometime later the first few visitors were starting to arrive. Most of them stay near the entrance, though if you're not too timid you can walk right along the canyon ridges for quite some distance and lose yourself in the landscape.
Sai Ngam Hot springs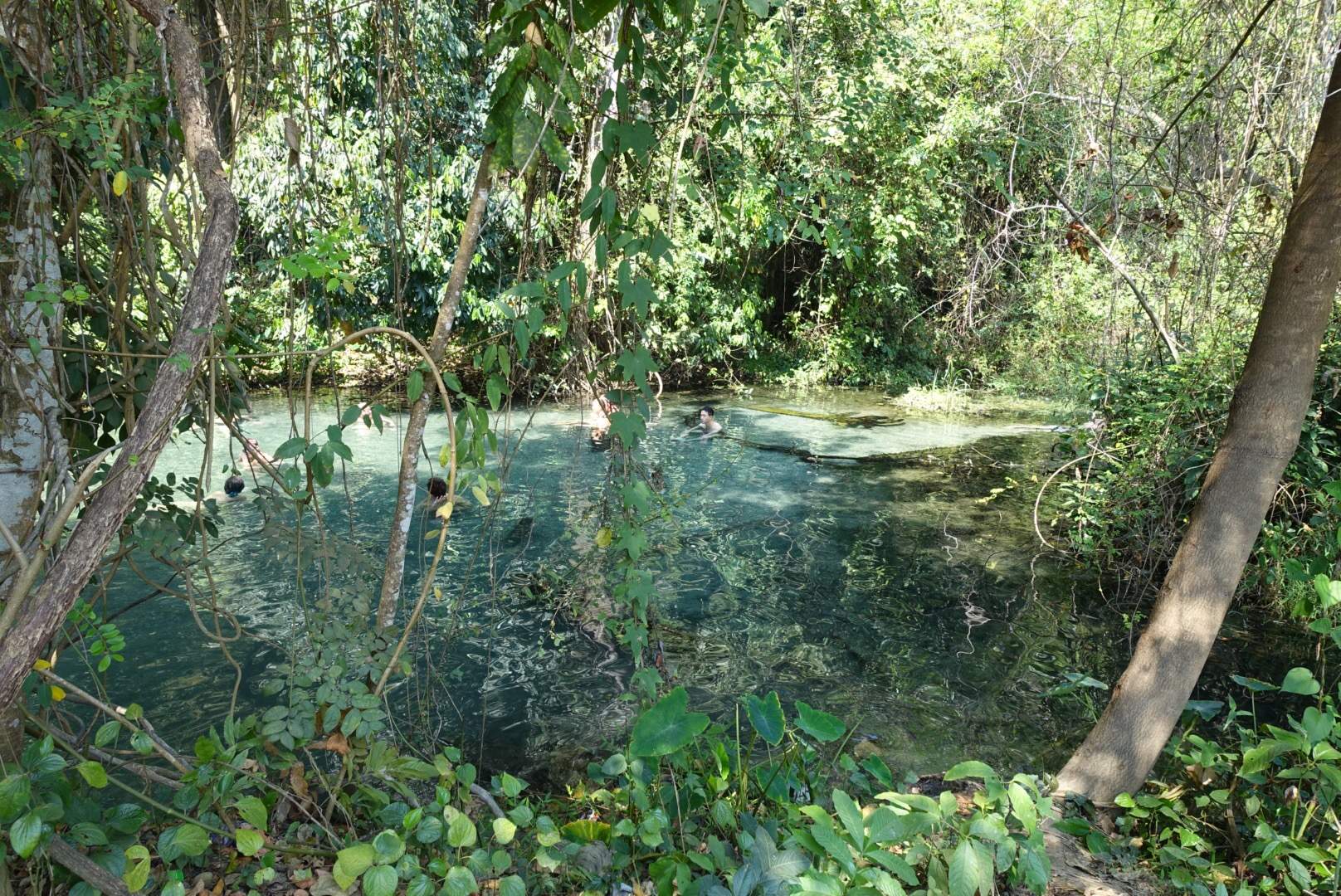 After leaving the canyon we stopped for a quick breakfast and then headed North straight through Pai and right out the other side. Our destination was the natural wonder of hot springs.
Pai has two hot springs, of which we went to Sai Ngam. It is smaller than the more popular springs South of Pai, but also much cheaper, and less busy. For entry we paid THB 60 (~£1.40), which includes parking for a bike and entry to the nature area of the springs themselves. For detailed information on how to find it, you can check here.
The Sai Ngam springs are a fair distance out of town, so to reach them early and before the crowds, you really need your own transport. The road surface all the way is good, but there are some sharper curves and, particularly after turning off for the springs, some steeper inclines and descents.
The water here is warm more than hot, but still delicious. There is only the one main 'pool' which is sufficiently deep, but if you're early like we were, it was mostly all to ourselves. By the time we left though, nearer mid-day, it was becoming increasingly crowded.
Get there early if you want to have some peace and quiet, go late if you want to hear how successful a few lads were in the bars last night.
Bamboo bridge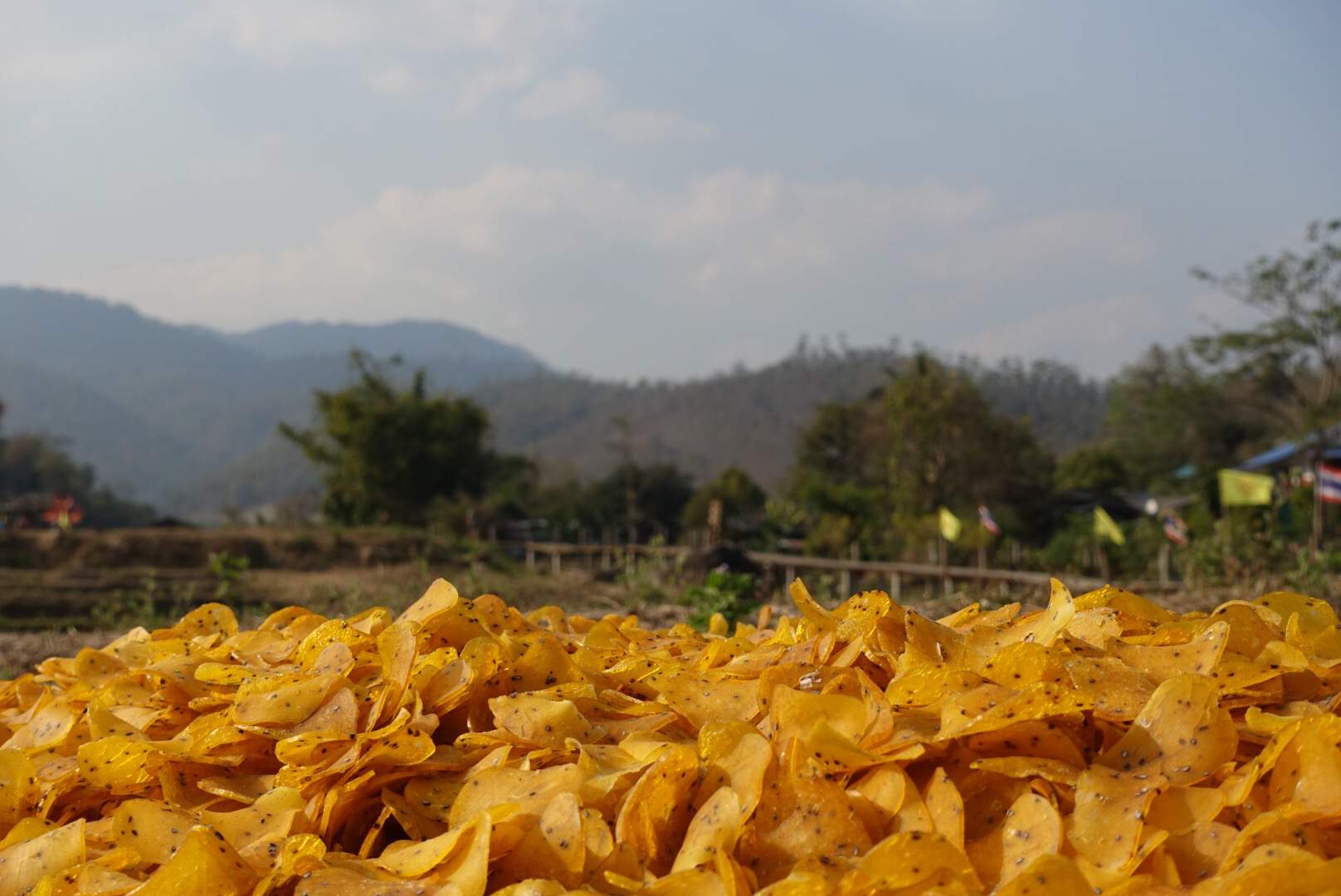 We saw the "Bamboo Bridge" on the map from our hostel and thought it was worth a quick visit after lunch, not expeciting much.
After splashing around in another waterfall, of course. This time Pam Bok, which has a few boulders you can jump off into the plunge pool, if you are sure footed enough. Be careful though, it's slippery and not that deep!
I imagined a small bridge over a stream or something similar. What we actually found was much more akin to a walkway than anything else. Like queuing for a ride at Disney Land, it just keeps on going. The backdrop landscape is picturesque on a sunny day, and for a small donation you can feed some fish on the way round. There isn't really anything to do here, save from taking an extended stroll, but that's exactly why we liked it. At various places there are a few benches you can sit down and take in the surroundings.
Abi said it was really peaceful lying down on one of the benches, as the only thing you could hear was the birds. For a while anyway, then a small murmur and the sound of some footsteps, gradually picking up to chatter and then conversation. Who is shattering the silence?
It sounds like my brother!
It is! Hi Dom! We took different mornings, but all ended up coincidently at the end of the bamboo bridge, before making our way to the nearby Land Split.
Land Split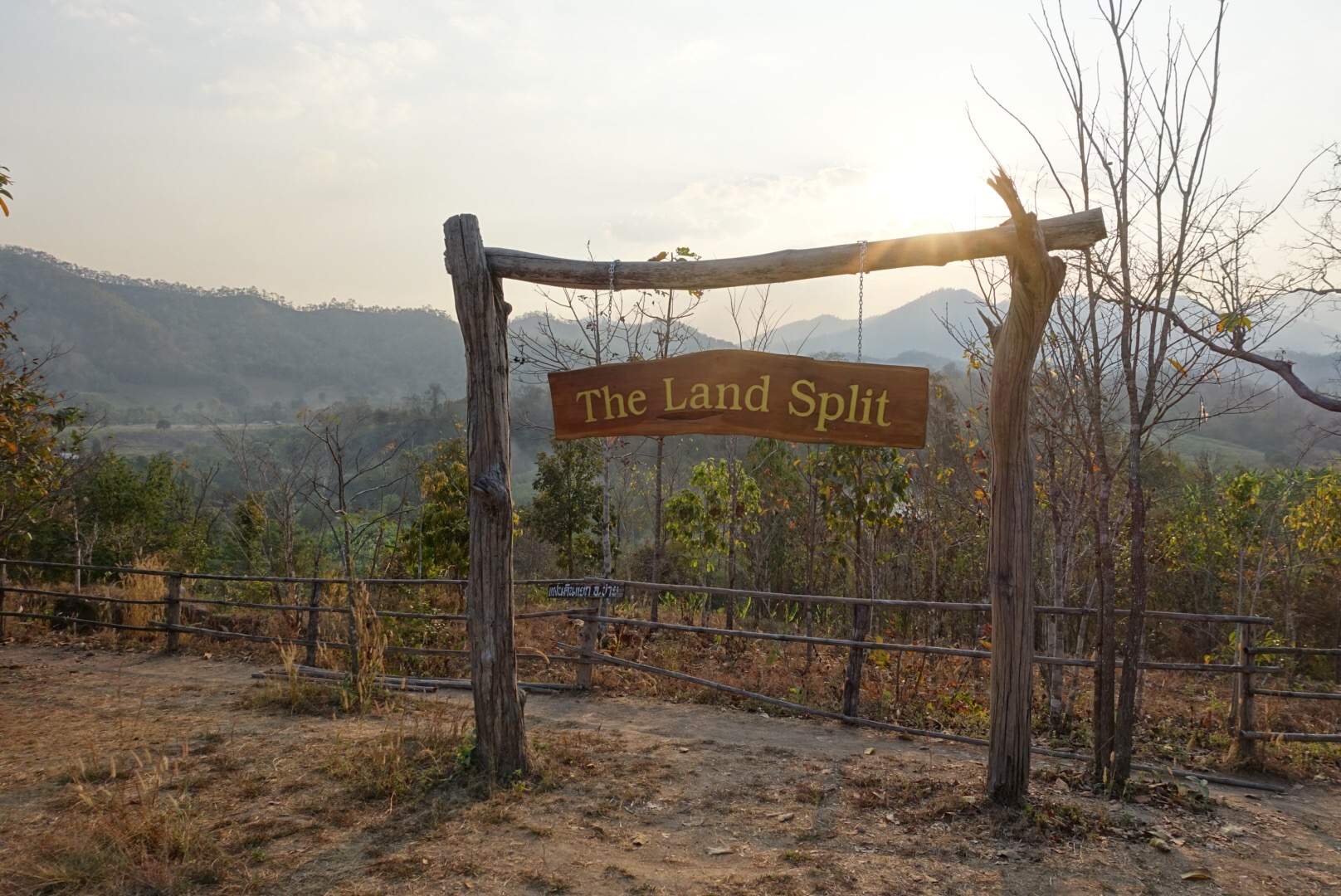 If the Land Split sounds like a small crack in the land, you would have guessed exactly right. It is a small crack in the land. But, it's a lot more fun than that. This area used to be a soybean farm until without warning one day an earthquake ripped right through it and destroyed the livelihood of the family that was tending here. A crack 2m wide and 11m deep took out the farmers income overnight.
"What the crack? What do I do now!" He might have thought. And the entrepreneur in him came up with the answer; turn it into a mini tourist attraction. Make people want to come and visit his crack.
The way they do just that is to greet you with friendly smiles, sit you down and present you with a tastebud tingling spread of treats after (or before) your 'hike' around the Split. The cover photo from this post is our spread. Tasty fruits, homemade Roselle juice, peanuts and sweet crisps. All while relaxing on a couple of hammocks, and finally giving a donation of whatever you feel it is worth.
I took the opportunity to take his wooden kart up the hill for a little ride back down too. No brakes, foot steering only. The kind of kart that is definitely not covered by your insurance.
Lod Cave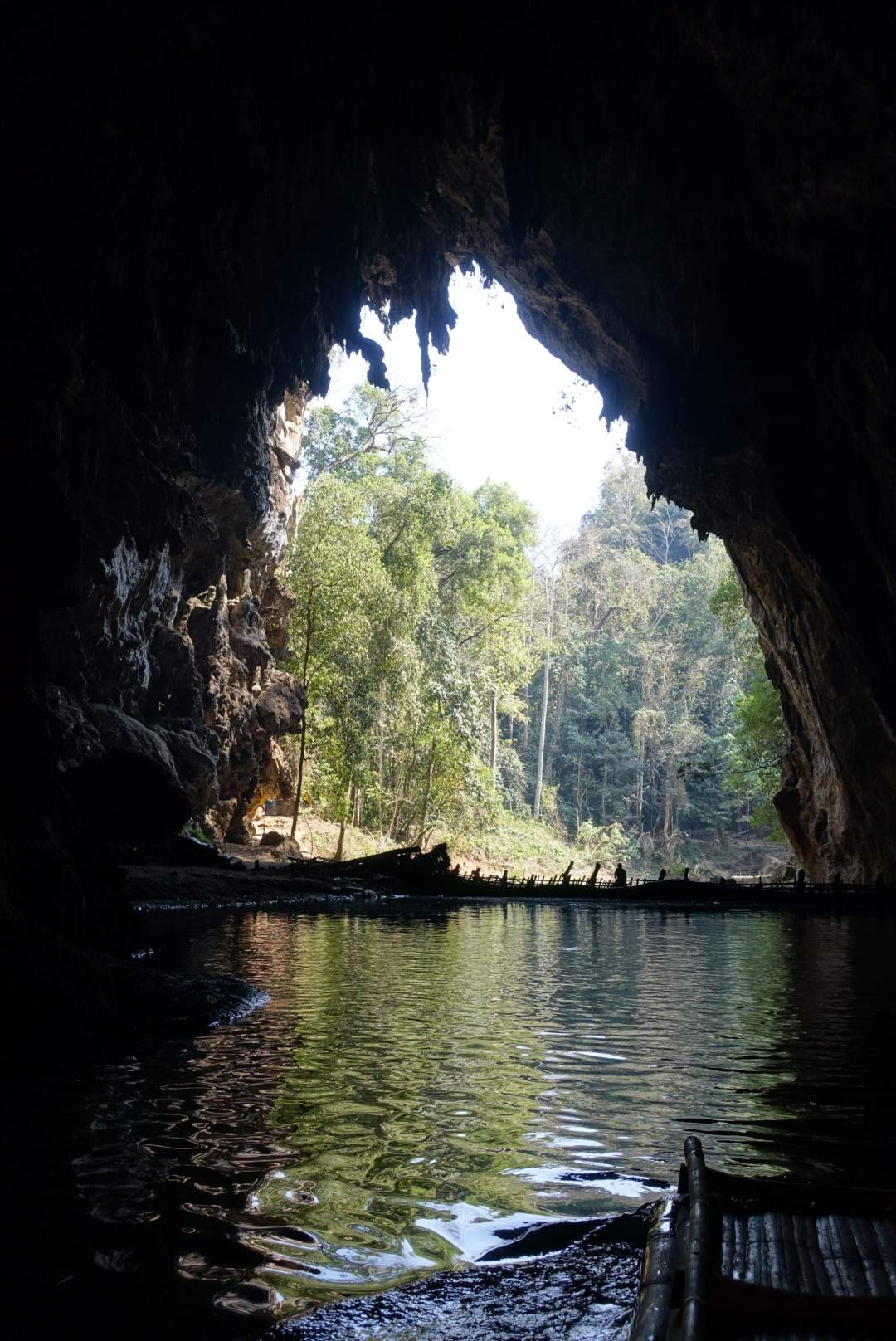 If you've been travelling for a while, you've probably come across a few caves. After a while you become a little satiated, and despite the natural awesomeness of mighty stalactites thousands of years old, you know what to expect. You start to look for something a little different in a cave. Lod Cave provides that in the form of a large expanse of water protruding from its core that you can travel across with a bamboo raft, with a bag of fish feed to send out as you go. Doing so wil set you back THB 330 (~£7.70) for two.
We visited in early afternoon, around 2pm, and there were very few others there as we slipped into a gap between a couple of big tour groups.
One review we had read lambasted the guide for not being fluent in English. We wouldn't expect or want this. Our guide spoke some words, just enough to answer some questions and point out a few formations and their nicknames, like the Elephant Rock. She told me she's been taking people around the cave for the last 19 years, almost daily; She knew it like the back of her hand.
It's a pretty cool cave, and a huge one inside too!
View Point
On the way back from Lod Cave, we saw a little dirt road winding its way up a hill. We glanced at each other, "Why not?" And off we went. A few twists and turns but nothing crazy, until Abi started tooting her horn crazily and shouting at me… what is it!?
Then I glance in my right mirror. The whole of the glass is filled with the body of a mangey dog aggressively bounding increasingly fast towards me… crap!
Then followed an adrenaline filled few minutes as I gunned the bikes engines and wound through and up the hill on a road of unknown length. Eventually I reached the top, with no where else to go. I stopped, and so did my canine friend. And just looked at me, and stayed until Abi and my brother had come up along side me. Abi said she had been driving along behind me, and it had just leapt out of the trees in front of her and started off towards me.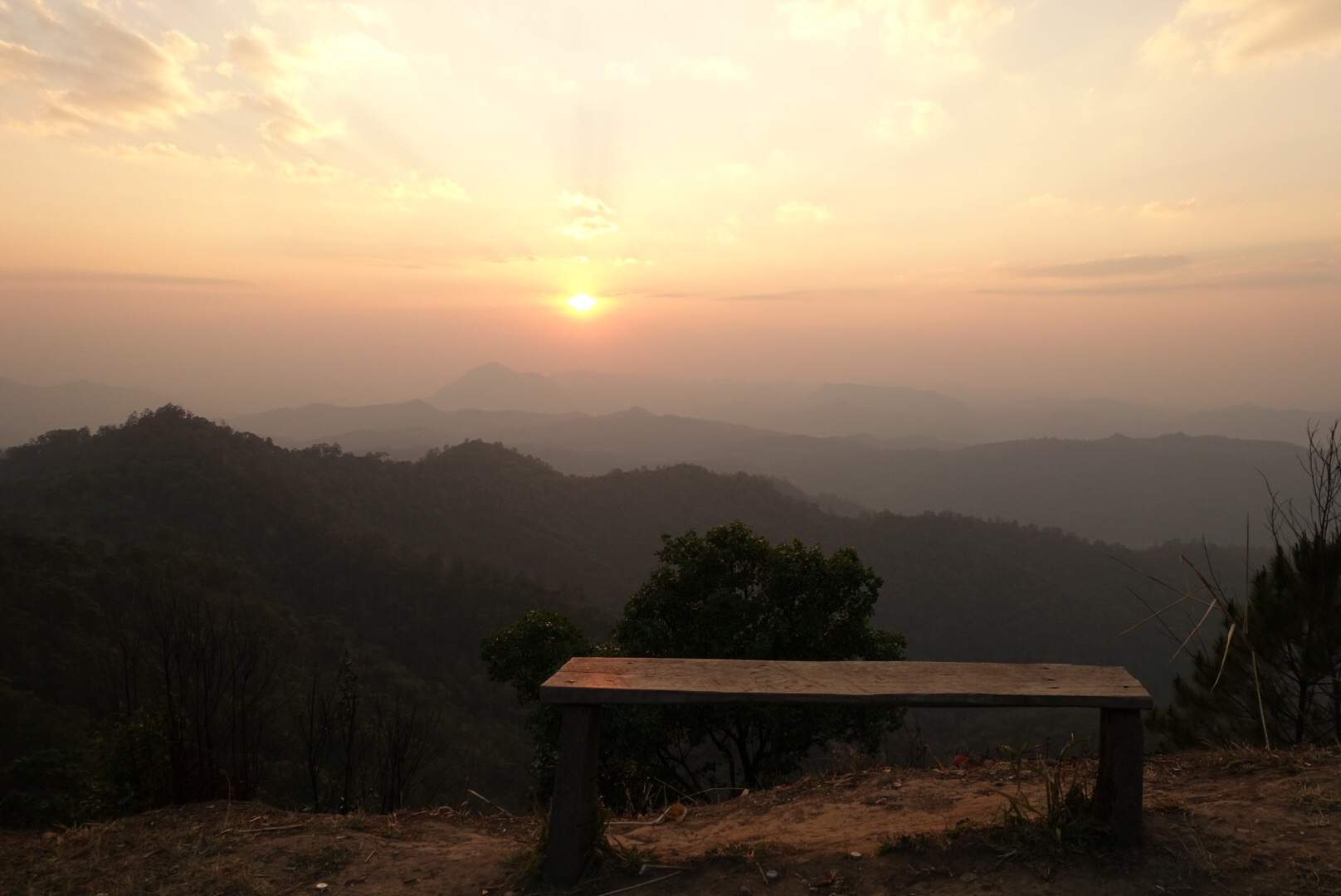 I have bad luck with dogs. Fortunately, it kept to itself once we had stopped, and let us admire the view from the single bench.
Walking Street (Rungsiyanon Road)
To enjoy Pai you don't even need to step out of the centre of the town. Every evening, the walking street is alive with stalls, shops, bars, and plenty of street-food vendors. Some really good ones, too.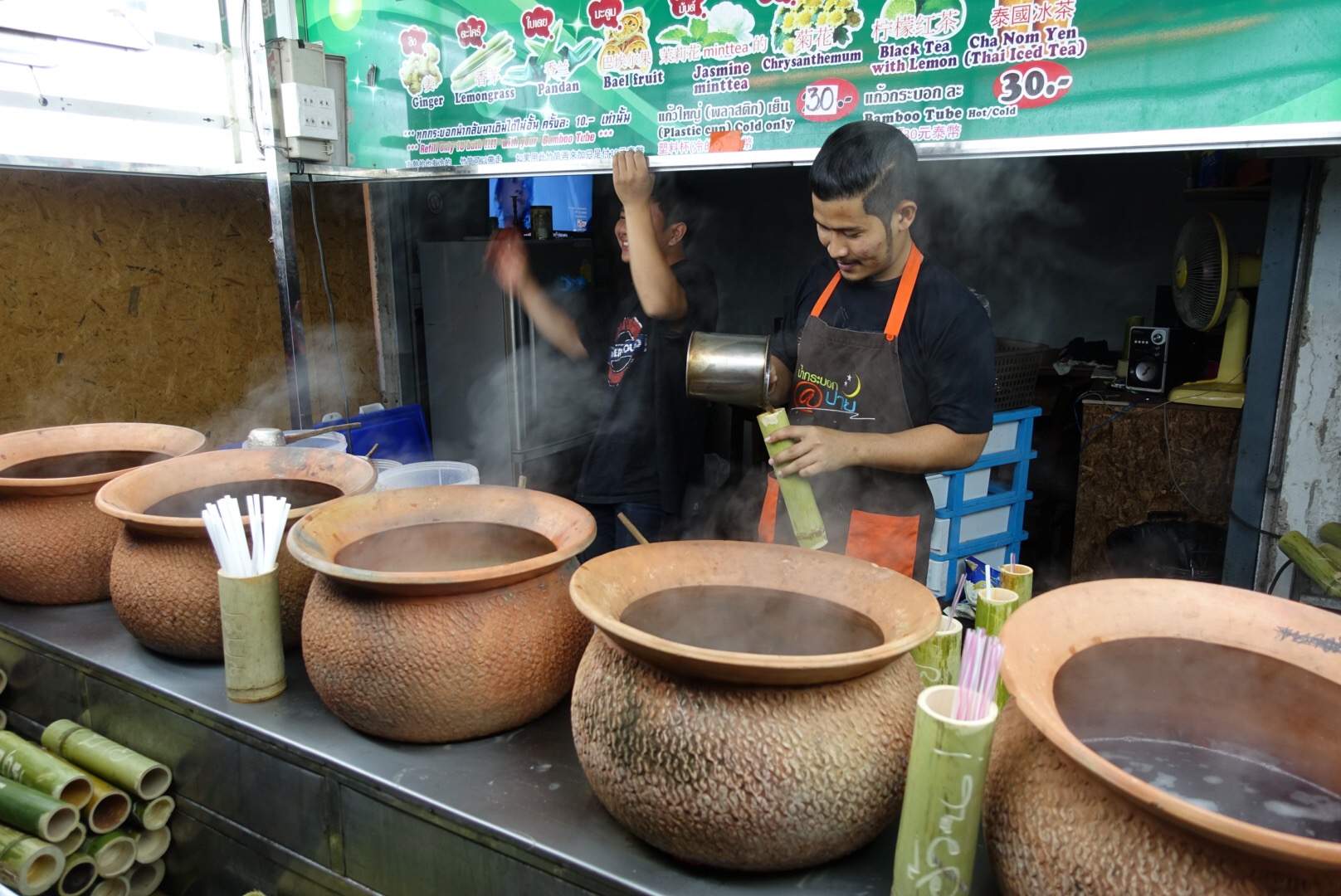 Interspersed with trinkets a plenty, you can grab some kebabs, rice, pancakes, burgers, pizza…
Actually if you want a Western food fix, Pai has you covered. It doesn't feel overrun with it, but a few places like Burger Queen will give you a taste of home. Expect to pay a little more for the luxury, though.
Right at the end of the street, the road turns a corner and transforms into a street of bars and restaurants. A more lively night out can be found here in the likes of Boom Bar, Yellow Sun and others.
We spent a couple of nights in a Jazz bar, and really enjoyed it.
Life of Pai
We found Pai to have just the right mix of everything to cater for many tastes. Even if you want to do nothing but lounge around by a pool, you can do that too, at Fluid. For THB 60 (~£1.40) you gain entry, a mat to sit on, and if you're lucky, a spot on the grass. The pool is a decent size, there is a bar, and hopefully the sun is shining.
Yep, Pai is a cool. I only hope it stays that way.
If you know somewhere else great in Pai, pass it on. I'm sure we'll be venturing back there at some point!