I'm outside alone on the deck, the door slid shut behind me. With nothing above my head casting any shadow I can feel the afternoon sun beating down intensely from above, but despite the apt name, the 'slow boat' I am on affords just enough of a breeze to keep me cool.
It's peaceful out here, with the gentle hum of the tired motor and the steady splash of the water below the only sounds I hear for half an hour. We've only recently stopped, and the wooden panels out the front of the boat that were laden with goods and chickens are now empty. With all the space I now have just enough room to lie down. Instead, I choose to sit off the edge and read, enjoying the clear mind the white noise rewards me with.
Around me and in front of me spreads out the mighty Mekong River, a trans-country mass of water flowing 4350km from China, meandering through Asia and finally breaking free out to the ocean through the delta in Southern Vietnam. A backpacker travelling through this region can look to the Mekong as a silent friend, criss-crossing paths from time to time on their journey.
Today, it is slowly but surely transporting us from Huay Xai on the Thai/Laos border through to Luang Prabang.
Leaving Thailand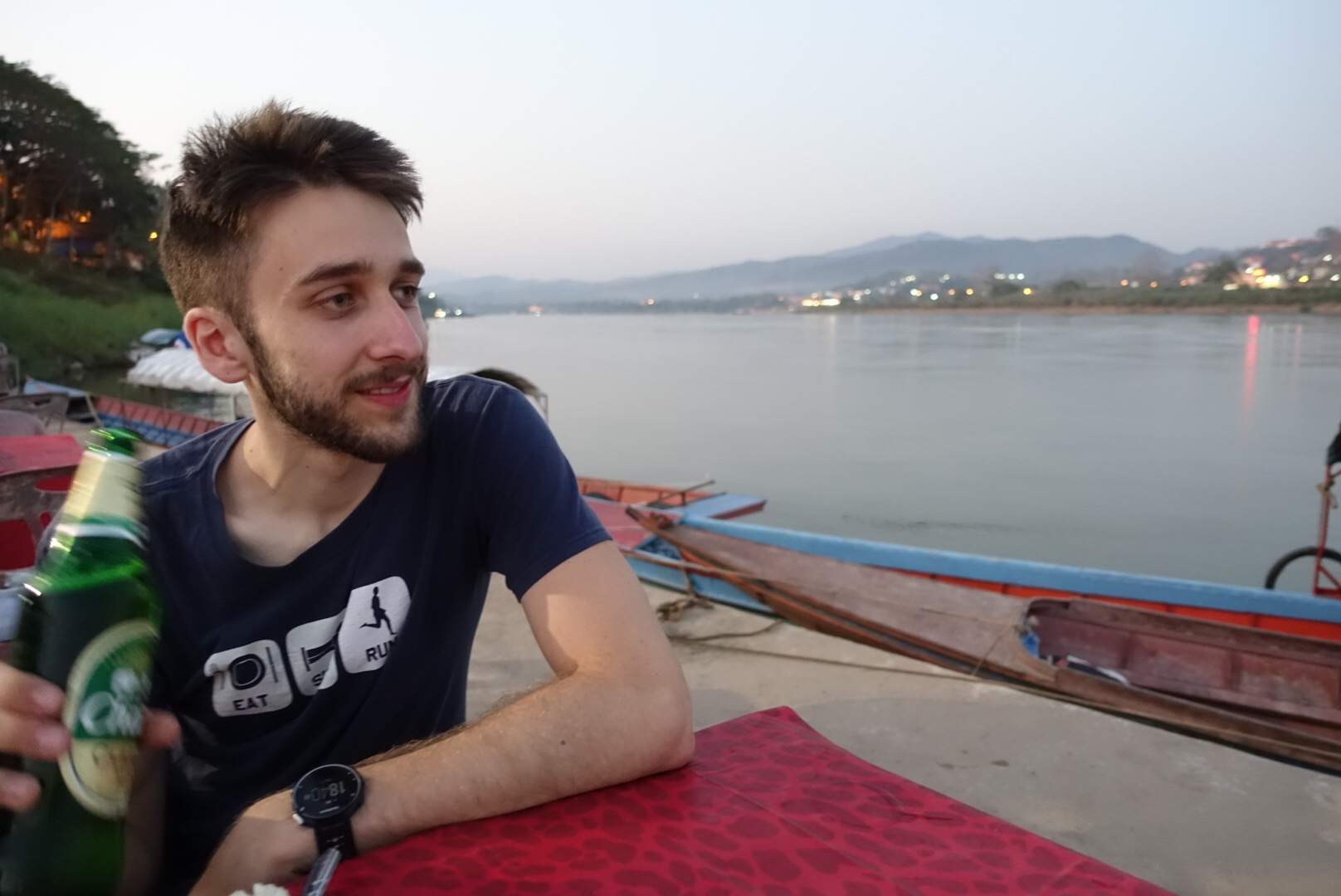 A local Thai man of beyond pensionable age was also enjoying a beer, and then some. We had some fun entertainment watching him sing and dance before being scooped up onto a scooter and whisked away by his friend
The route is well travelled, and despite faster options existing for travel from Thailand to Laos, many people choose this boat. Our journey started the day before, from Pai in Northern Thailand. After some great days there we were making our first border crossing, ready to experience a new country, culture, language and currency.
The slow boat takes two days, and as with all travel in Asia is very easy to book in many places all around the area; Pai was no exception. Take a stroll down Walking Street and you will see many offering the same journey. The majority of them are resellers for the same travel companies, so it is for the most part much of a muchness which one to use. We grabbed our tickets from AYA Service, the same company we used for bike rentals,  for TBH 1750 (~£40) each. Especially for Asia, this is a bit of money, but the journey does have a few different legs over a full three days.
Despite there being many ticket sellers, there can be less than enough boats in times of high demand. We were able to get tickets the night before, but not for the time that we had wanted as it was fully booked. If you know your travel plans, booking a couple of days in advance might be worthwhile.
Pai lies hard to reach from anywhere except Chiang Mai, so originating your travel here means the first leg is backtracking down route 1095, the likely road you took to arrive. After our leisurely drive up, going back down in a minivan that had aspirations to join Formula One took only 3 hours.
Reaching Chiang Mai left a short wait to board another bus, giving a chance to educate a fellow traveller in the ways of the bum-gun. For the uninitiated, failure to master the art of this omnipresent toilet accessory could likely leave you caught short, up shit-creek without a paddle, or paper, as it were. Mastery though leads to reverence, and the thought of life without such a device is an unpleasant and laborious one.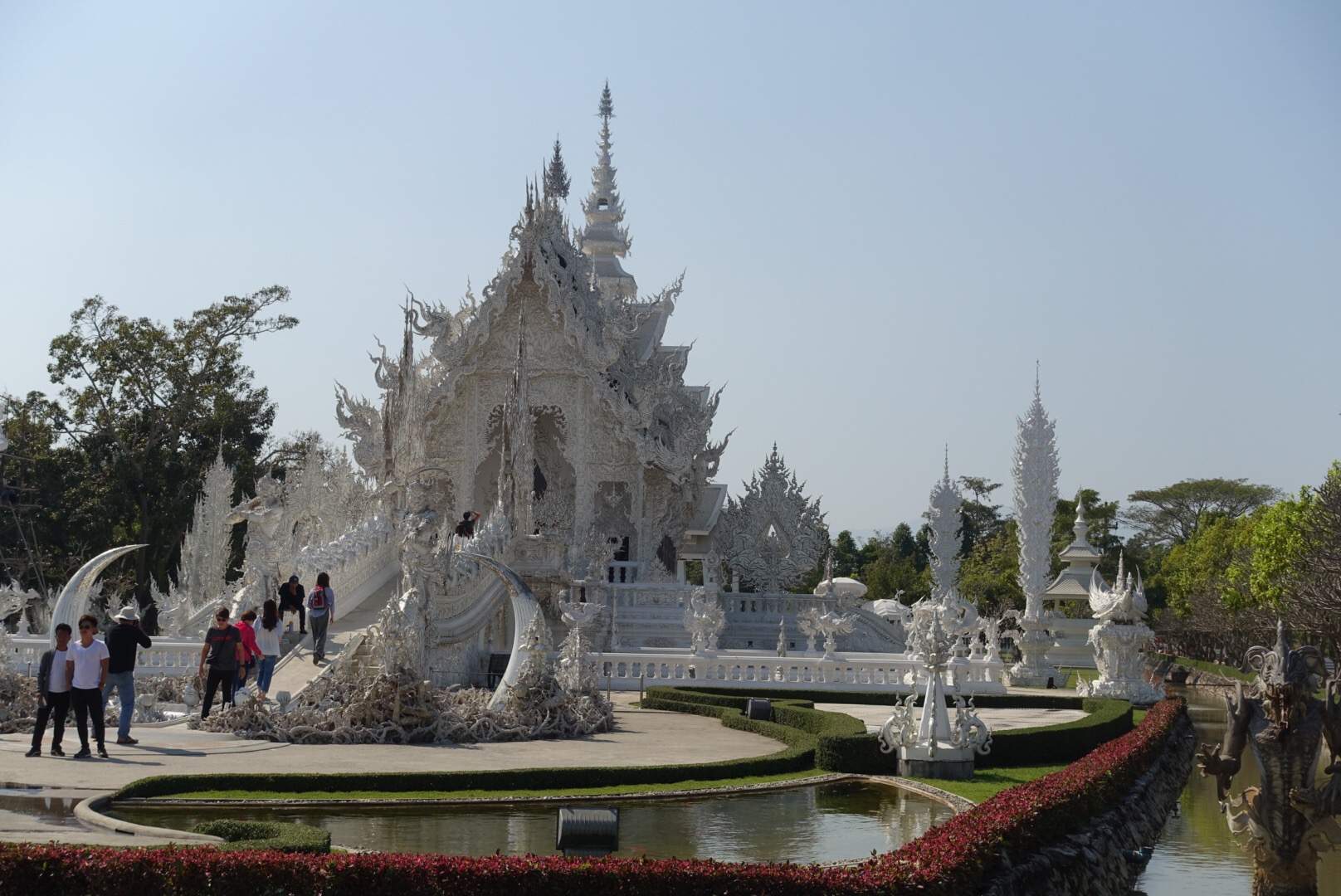 The onward journey from Chiang Mai fills up a few more seats before heading to Chiang Rai, where the bus will stop to treat you to a 20 minute look at the White Temple, Wat Rong Khun. Of course, this isn't really enough time to appreciate it, just enough time that it can be tacked onto your itinerary to make the journey appear better value. We already knew this, and in fact were not planning to visit Chiang Rai this time, but on this route unless you have private transport you will likely stop here.
To actually have some time to look around the White Temple, and Chiang Rai in general, just travel independently here and then you can still book onto a slow boat or other onward travel when you are ready with no issue.
Finally, late in the evening we arrived at our last stop in Thailand, Chiang Khong, which is right on the border and separated from Laos only by the Mekong. Here we would spend the night before the onward boat in the morning. This nights accommodation, albeit very basic, was included in the price of the boat ticket.
A babble of 15 or so travellers descended on this place off the bus where we eagerly waited more time than we would have liked to be able to check into a room and rest. Before this delectable luxury though, we had to fill in our visa forms for the crossing. This is a simple and small bit of paper to fill out, that essentially wants to know where you come from and where you will go. Whether you are cotton or sleepy eyed is not important.
Paperwork complete we awaited our calling from an interesting character running the joint who was very enthusically giggling, singing and cracking jokes. Unfortunately, the joke was on us when it turned out they had overbooked and had one room too few. Doh! We had the short-straw of bundling back into a truck annoyingly far down the road to someone's house-come-home stay where we enjoyed a night of loud Thai TV.
Slow and steady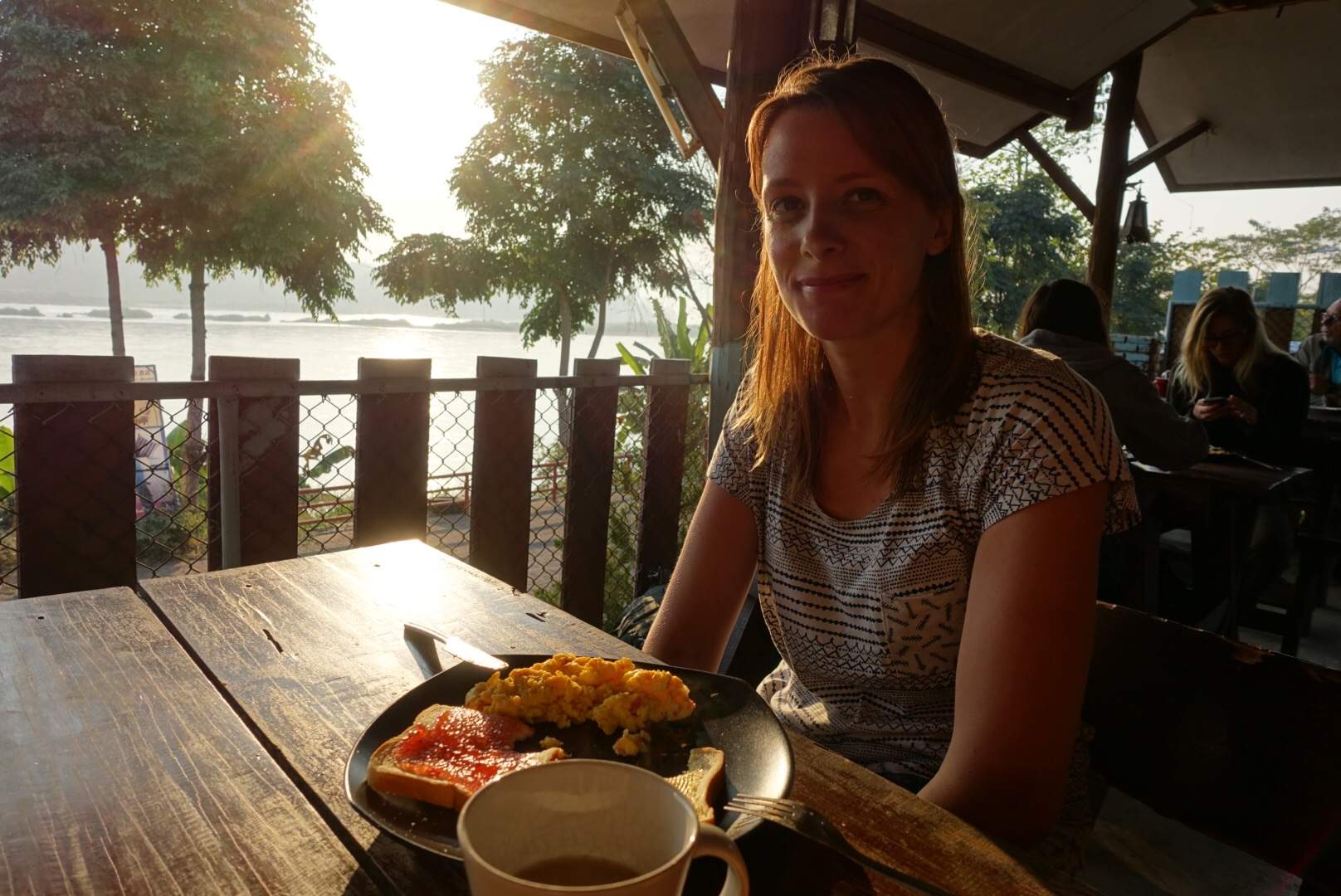 Slow boats leave from Huay Xai on the Laos side of the Mekong every morning, a short way from the border crossing over the Friendship Bridge. Before that, it's a standard process to exit out of Thailand, catch a pointless bus all of a few hundred metres, and then enter into Laos. It actually took longer to load the bus with everyone's bags than it did to drive across no-mans-land to the other side. This journey costs TBH 20 (~90p), and the visa for Laos $35.
Eventually, all of our stickered group had reached the other side to regroup like an adult school-trip. Here it is a short ride to the boat dock, and the first glimpse of the vessel that will transport you down the river.
Also, the first sight of something amazing. "What's that?"
"What can you see?"
"A sandwich!"
After a few weeks of delicious noodles and rice, it was never-the-less mouth-watering to see fresh baguettes. The first sign of the French influence here was a welcome one!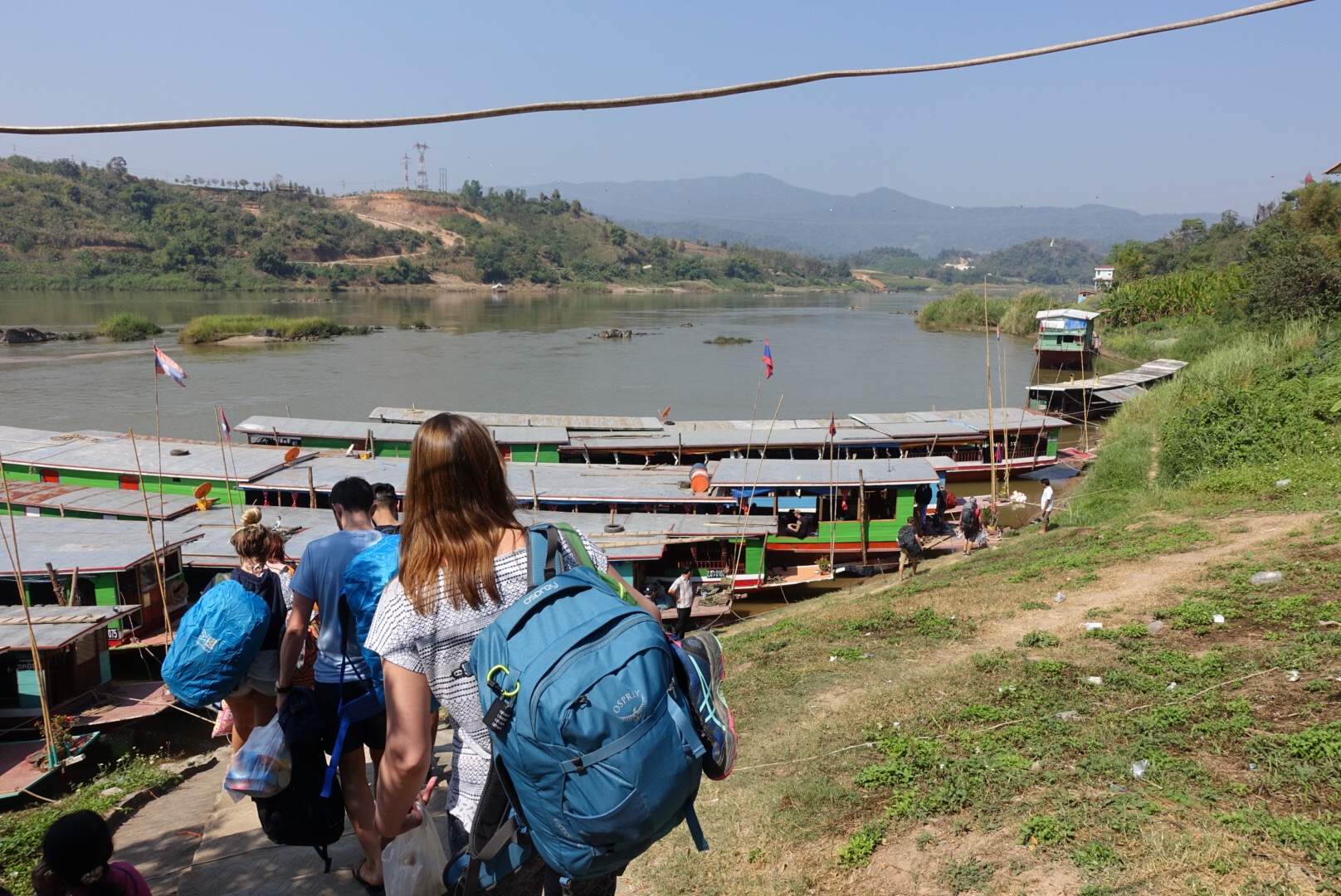 Fresh sandwiches in hand, cool Beer Lao in the other, we ventured onto our boat. We had heard that there is limited decent seating so it's advisable to board early, which we did. The inside of the boat, in a nutshell, is like someone gutted an old bus and chucked all the seats loosely into a wooden box that happens to float.
Being loose the seats could be marketed as "fully-reclinable"; if you keep leaning back, you can reach the floor. Or with "360 degree panoramic bases", when you can pick up your seat and put it somewhere else more appealling. It's quite a fun setup, actually.
Some people read, some turn their seats around to chat and play some games, some have a few now warm beers. Generally, at least on our boat, the mood was pretty slow and chilled out. From time-to-time taking a seat outside on the deck, and back for a nap or gazing out of the window at the green hills and the few other boats rolling by.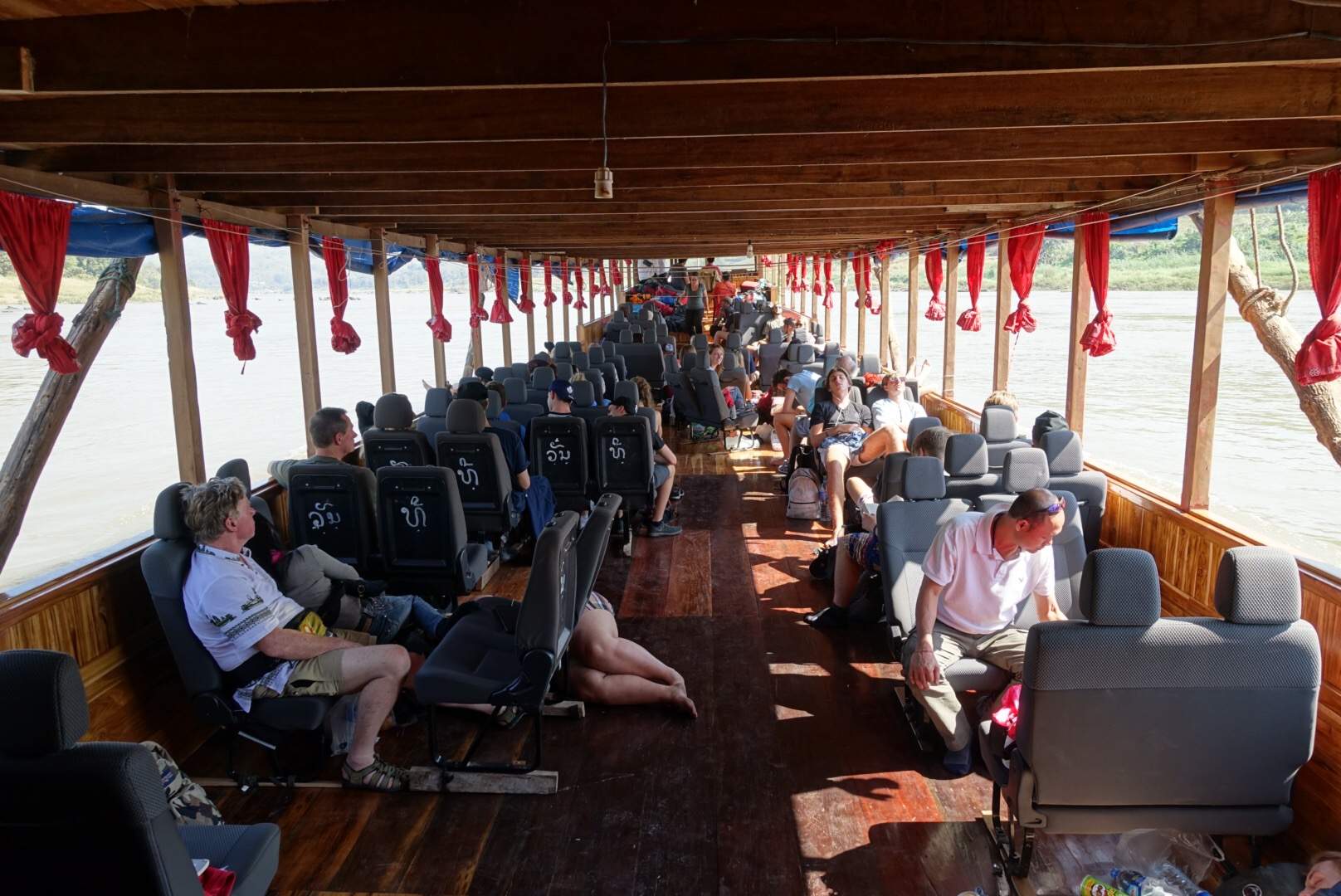 The boat chugs along for most of the day, a good 6-7 hours, and with no stops aside from to pick up a few local passengers. Relax, there is a toilet (and it's not the river).
My time outside on my own was thanks to the driver refusing to let anyone else out after me. I'm not sure why and didn't realise at the time. Not until I eventually left my secluded sun-spot and retreated back inside to interrogate Abi and find out why she hadn't daned to join me and bring a beer. Turn's out she was turned away and couldn't get my attention from the window. This makes sense, with such a pleasing view my eyes were fixed forward.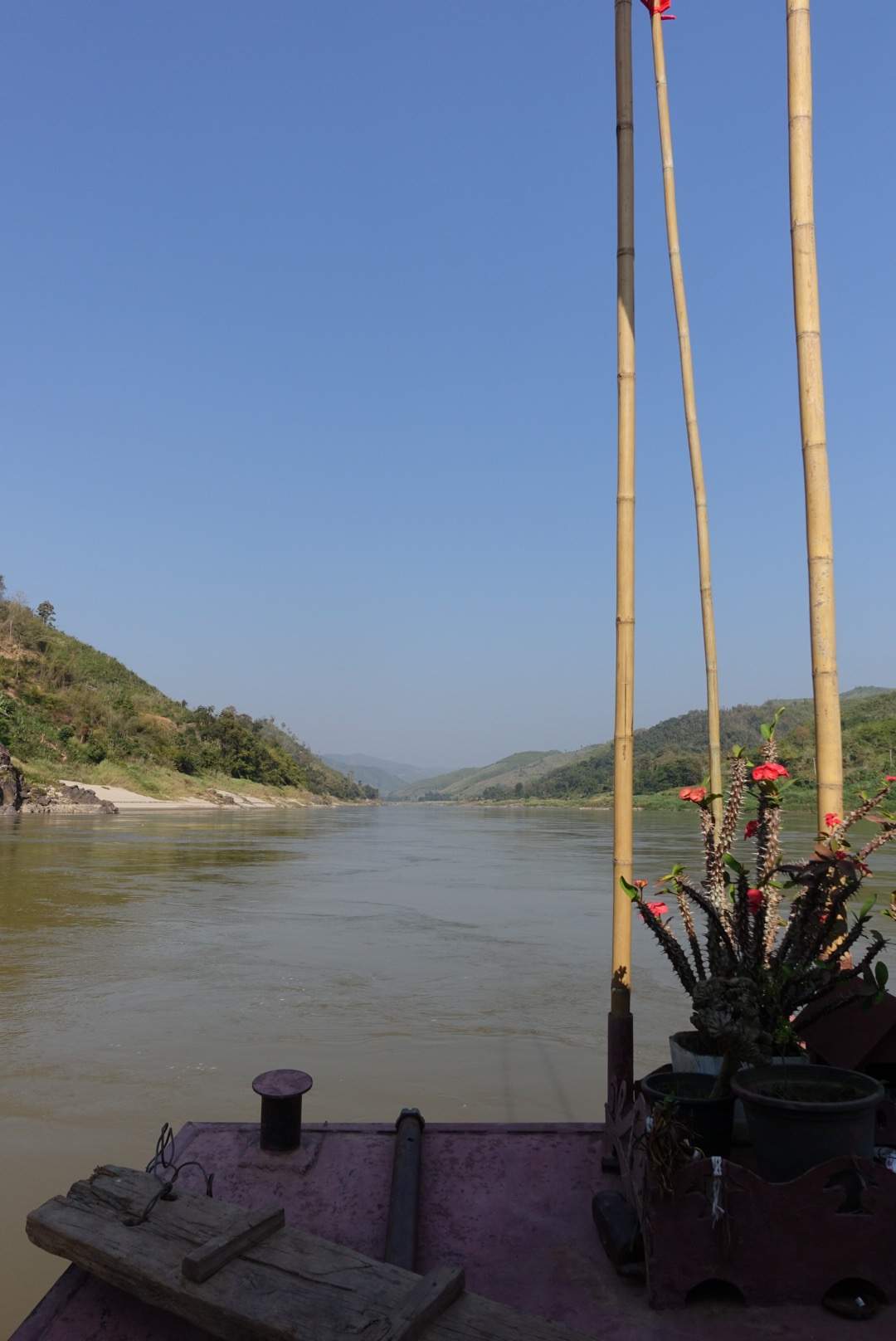 Eventually, Abi was able to enjoy the cool breeze also.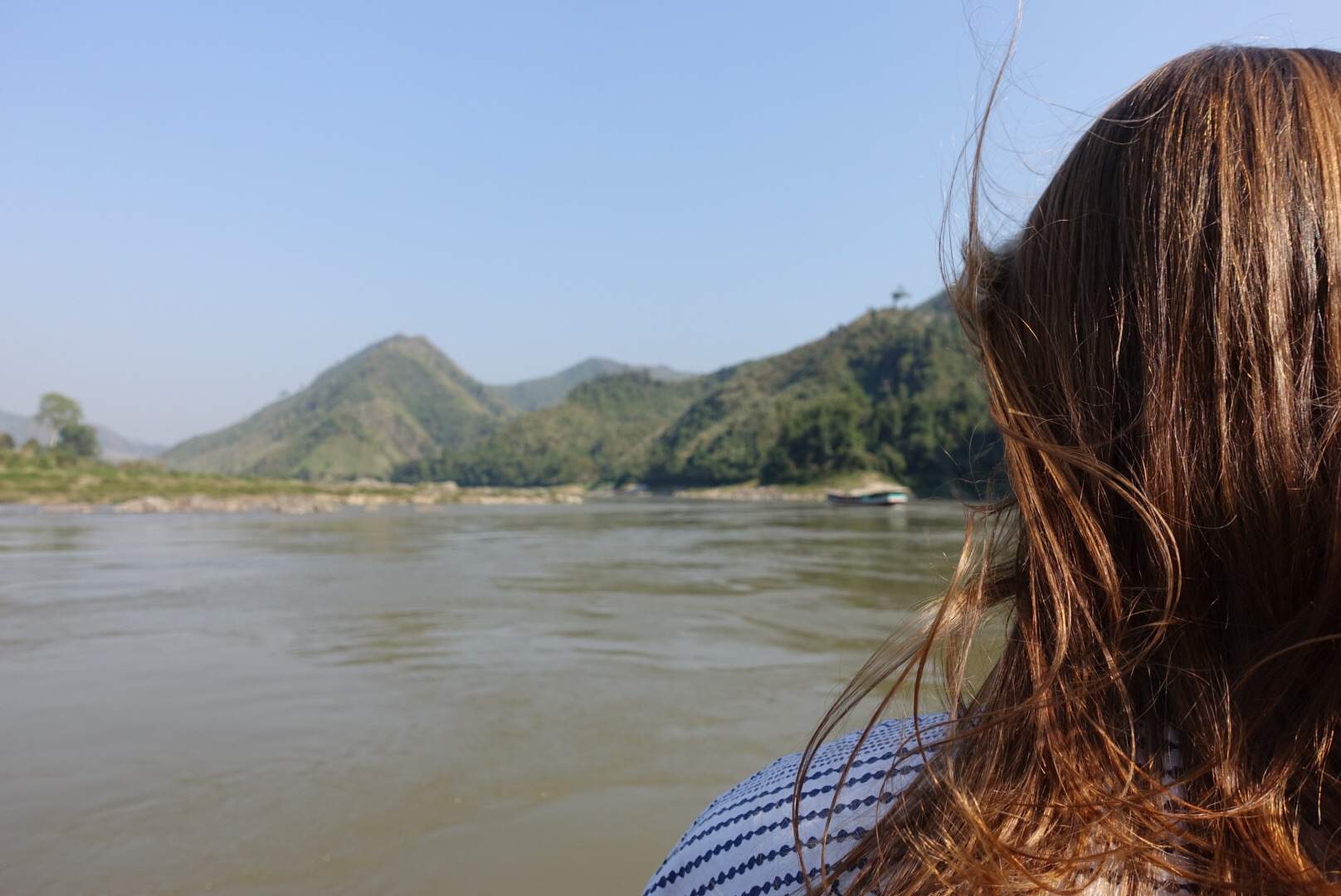 The boat keeps meandering through the river until it reaches the town of Pat Beng, roughly half way to Luang Prabang. Here, you rest for a night to resume with another full day in the morning.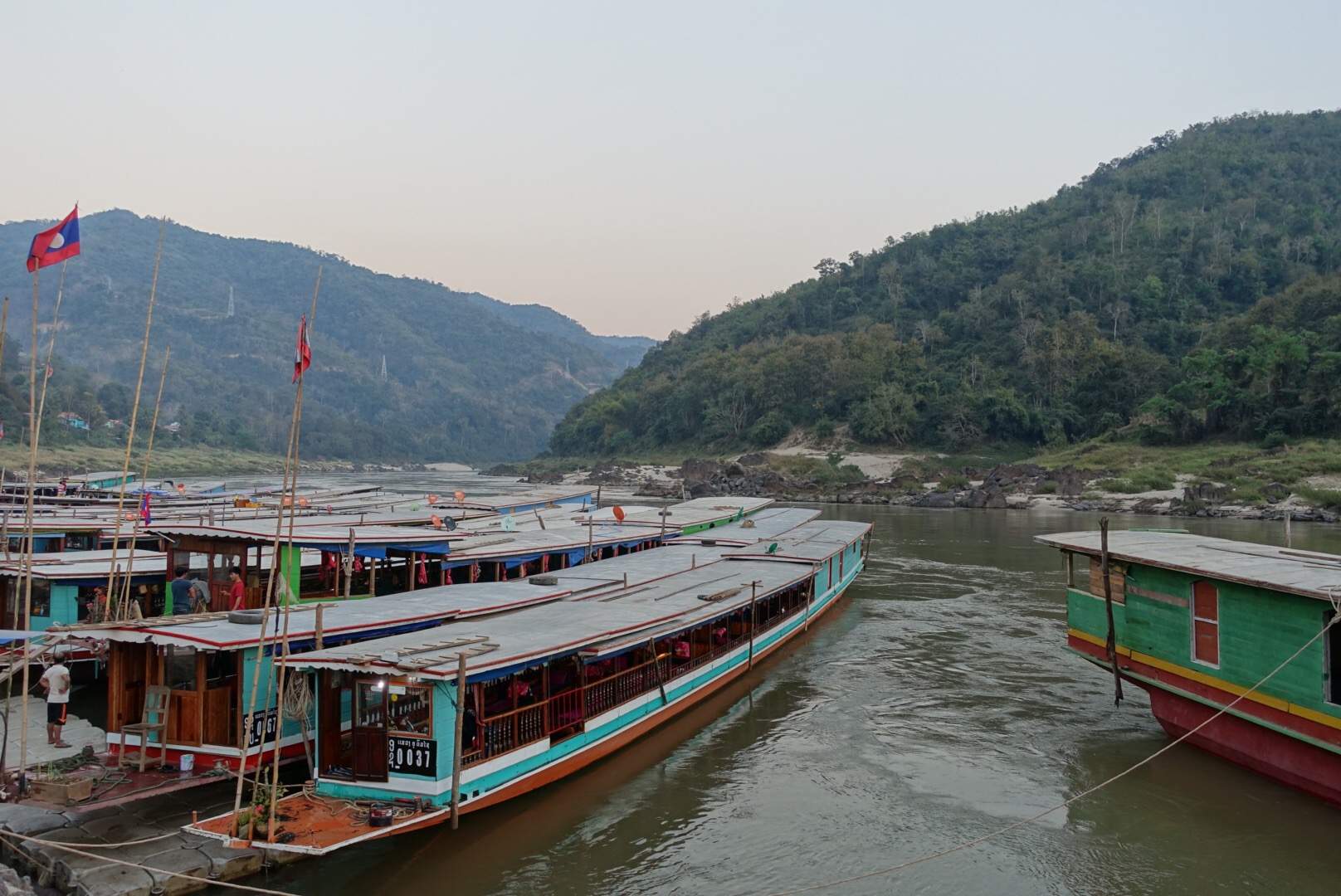 Pat Beng
Would you come here if you weren't dropped off with no choice? Probably not. Before the slow boats started making their way down here, you would wonder what, if anything, was actually here.
This little town is formed mainly of a fairly steep hill that makes its way up from the boat dock, lined all the way on both sides with questionable guest houses. Or even more questionable guesthouses in development, hoping to cash in on the abundance of tourists loaded with money but lacking sleep, ready to make a bad accommodation choice amid the scourge of locals trying to convince you why their particular establishment is, in fact, the best.
Fortunately we had friends pass this way shortly before us, who gave the good advice of picking up your bags and walking up the hill, not succumbing to the endless offers being shouted out doors and windows at you until you're at least a little way from the dock.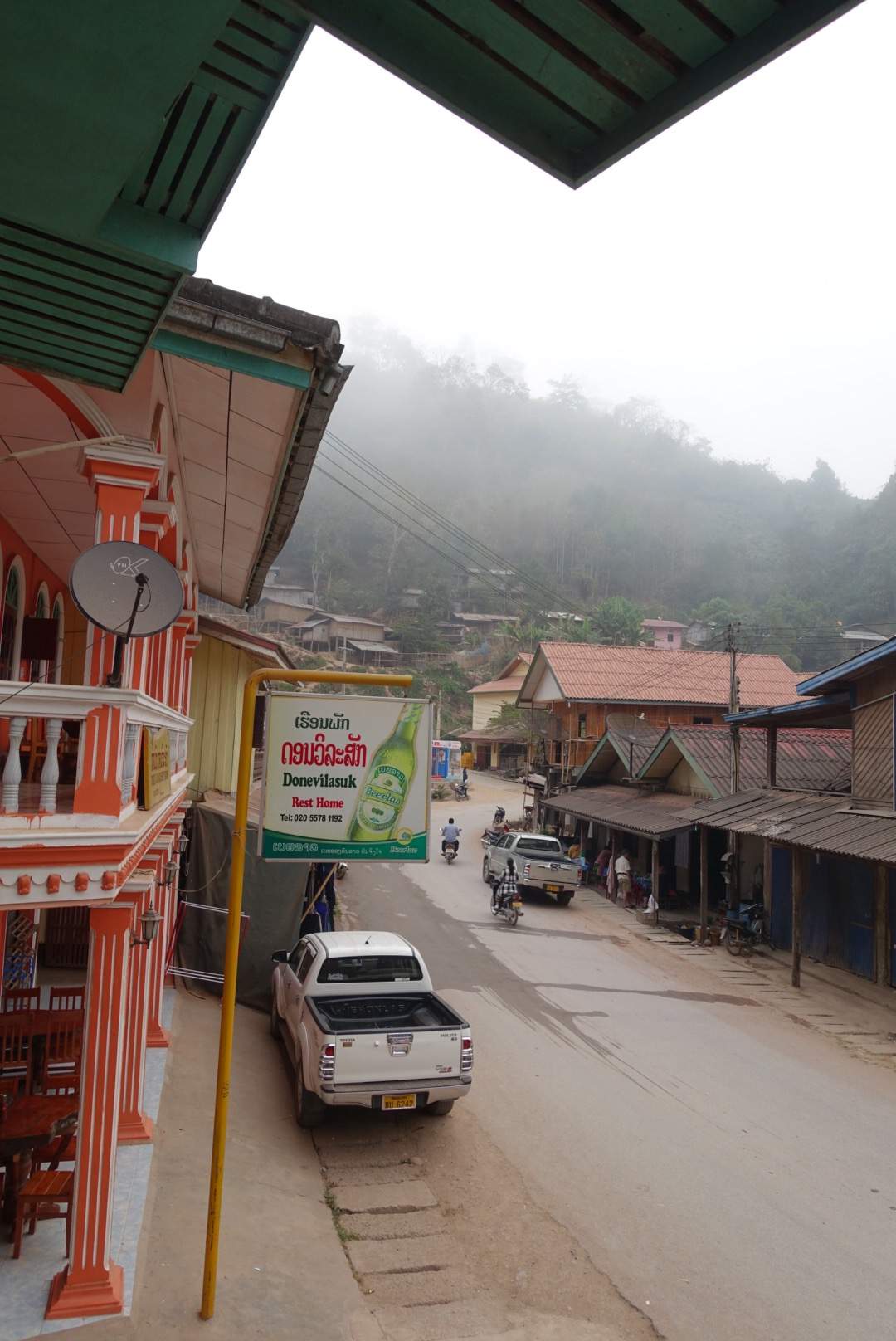 After looking at a few rooms, we settled on Donevilasak and coughed up LAK 50,000 (~£5). The room was very basic, with a barely locking door, and questionable cleanliness. We are not picky though, so for us for a night, it would be okay. Next door, the three lads who had jumped straight into a truck at the boat had arrived at their digs. Only to find they paid triple the price, and for an unfortunate lack of bed space; it turns out that what was sold as "3 double beds" was actually 2 structures looking roughly like beds, and a bit of floor. We were happy with ours.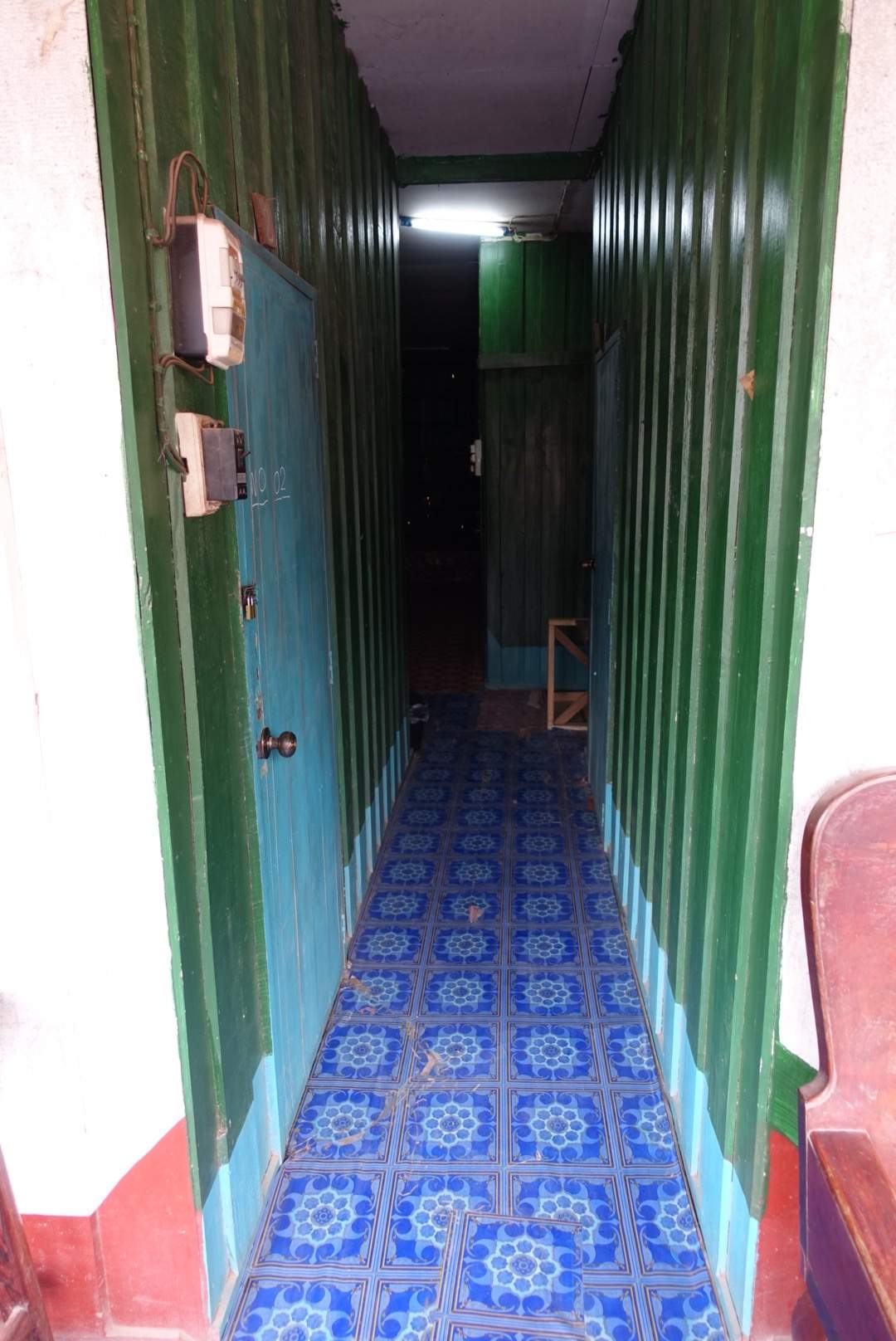 After a dinner and a chat, we ignored the bountiful offer of drugs, and went to bed. The night was pretty uneventful, if a little hot.
The morning was interesting, though.
Despite being a long boat ride, we had finished for the day with surplus supplies of food. Before bed, I left a single banana perched satisfyingly on top of my backpack, the cleanest place. And in the voice of "Dear kitten", "when I woke up, it was gone".
Somehow, a piece of tasty fruit had been snatched by an unidentifiable source from our locked room, sometime during the night. We scoured the room for signs, but after looking under the bed decided it wise to end our search.
The Banana Bandit of Pat Beng remains at large.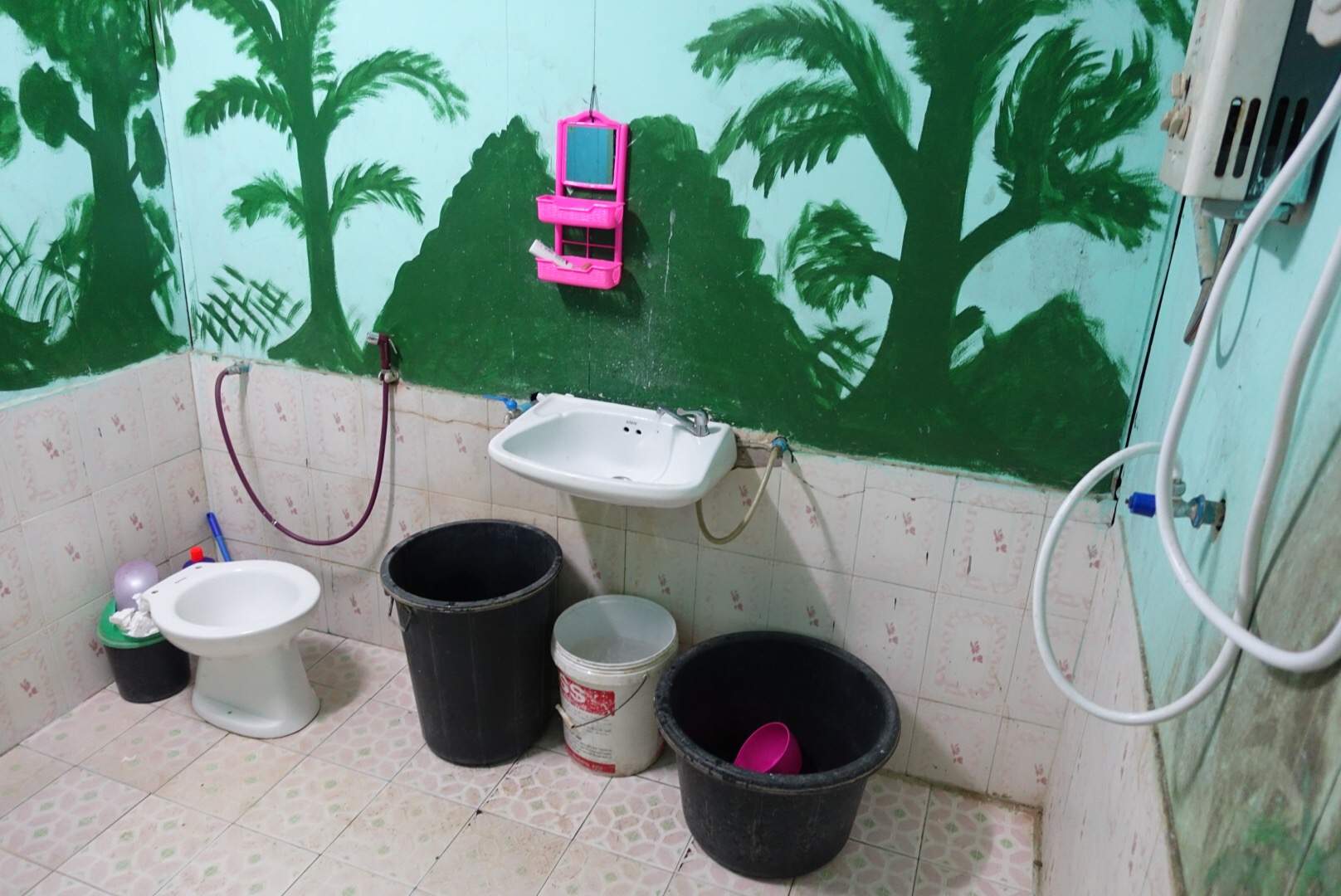 After a quick breakfast, we joined the mass of similarly weary-eyed people making their way back down the hill to join the boat. Today's one was smaller, and one of two, so the group we had been travelling with was a little split up. It was a lot more cramped, with no room to venture outside. The scenery was still similarly stunning though, witnessed instead out the sides of the boat.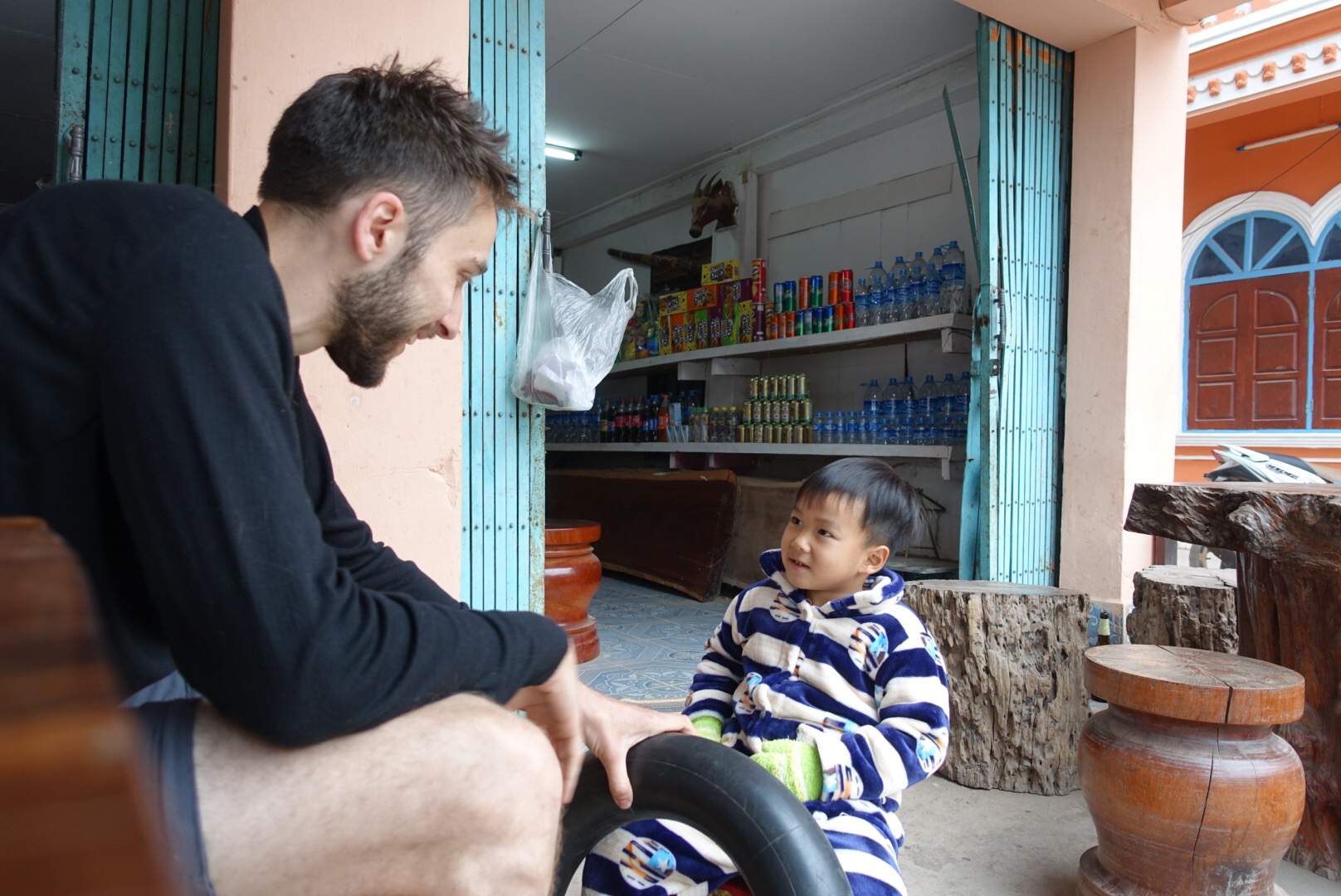 From Pat Beng to Luang Prabang took around 8 hours, dropping us just outside of the actual centre. This is a now well established pseudo-scam whereby the boat drops off all the foreigners, then continues on with just the locals to Luang Prabang.
As a foreigner, it's a short tuk-tuk ride for 20k kip (~£2). We didn't mind too much, at this point just wanting to arrive. After our 3 day journey, we made it into Luang Prabang. Our first impressions was of a quiet and pretty town, more like something out of the French Riviera than Laos. "They have lampposts?!"
We would have some fun exploring, and eating more sandwiches.